Some links on Turning Left for Less pay us an affiliate commission to support this blog
Posted By: Michele 31 December 2021
In this post:
This was a BA Holidays fare that I had booked months ago in the sale and included car hire for part of the trip. The total cost was £1658 which from London with a car for 7 nights (car hire prices have increased a lot since the pandemic), I think is decent value. 
 
You can read about my testing experience here.
The current rules on testing for entry into the US are:
Before boarding a flight to the USA, most passengers – regardless of vaccination status – are required to show a negative COVID-19 test result taken no more than 1 day before travel. All air passengers to the USA are also required to provide contact information to their airlines before boarding.
You can use lateral flow (antigen test) and home tests. However, home tests must be observed by video appointment. You can read more about companies that offer these here. 
You also need to do a passenger attestation stating you have received a negative Qualifying Test result (this is not in place of a test). The Attestation can be found at the CDC website "Passenger Attestation Form". However, if you use Verifly you can just do it online. With everything complete, I uploaded my test result to Verifly and it was approved in a couple of hours. I notice that now Verifly are capitalising on the short timeframes for testing and offering an expedited premium service for $8.99 for a single person. Given that it says you can upload until 4 hours before the flight, I'd expect them to complete the checks in time for the flight within those time frames for free!
I checked-in at the First Wing and only had to wait a few moments to get to a desk. Fortunately, a large group heading for check-in at the same time let us go first, or it may have been a longer wait. Check-in was pretty quick given that we had done Verifly and already chosen seats. Heathrow was looking lovely and Christmassy.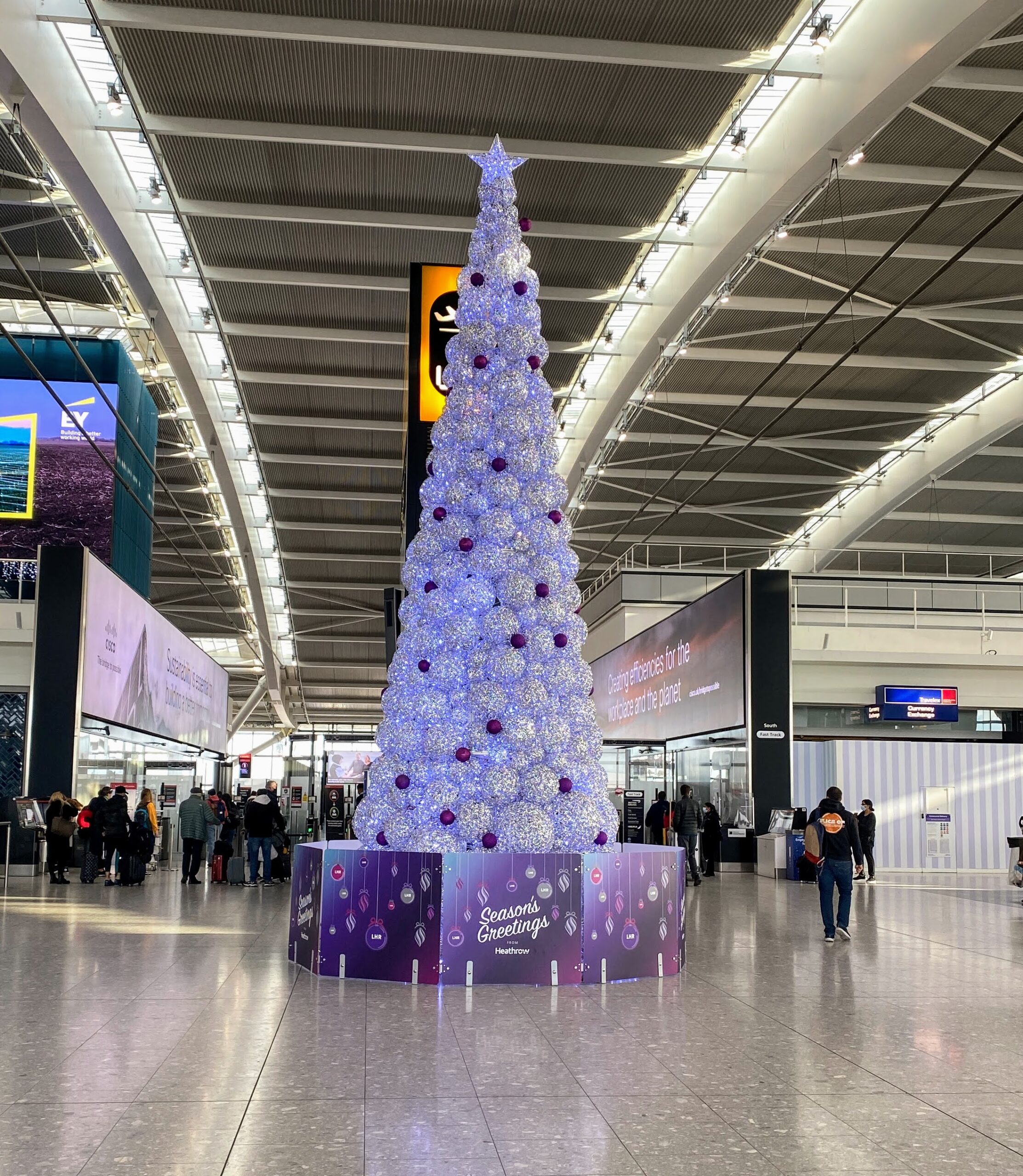 There was not much queue at security either, even though I'd been expecting it to be busy.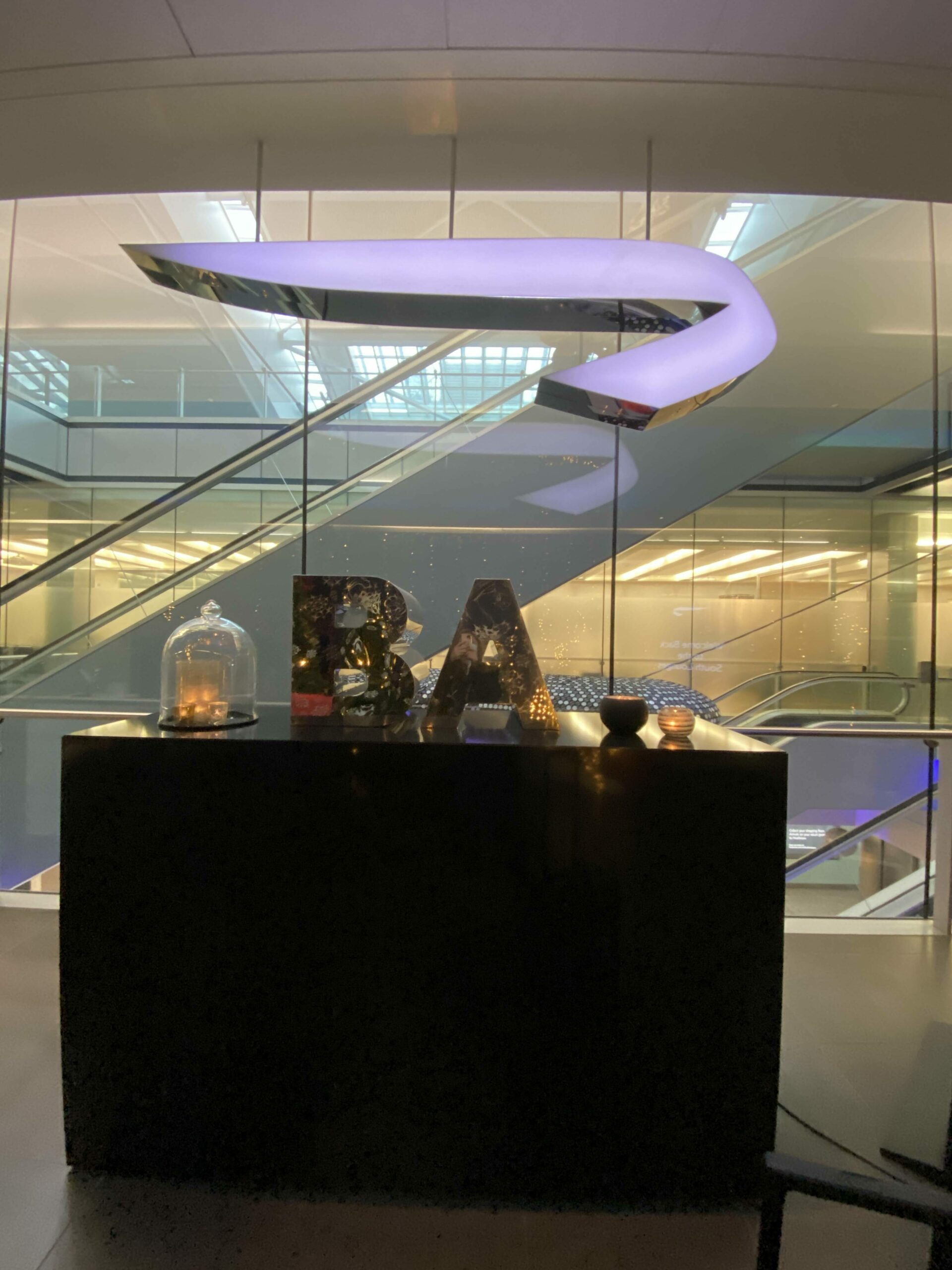 I visited the Concorde Room on this trip but I do plan to do a review of Galleries Club next time I am travelling on my own through Heathrow. BA also had some lovely Christmas decorations.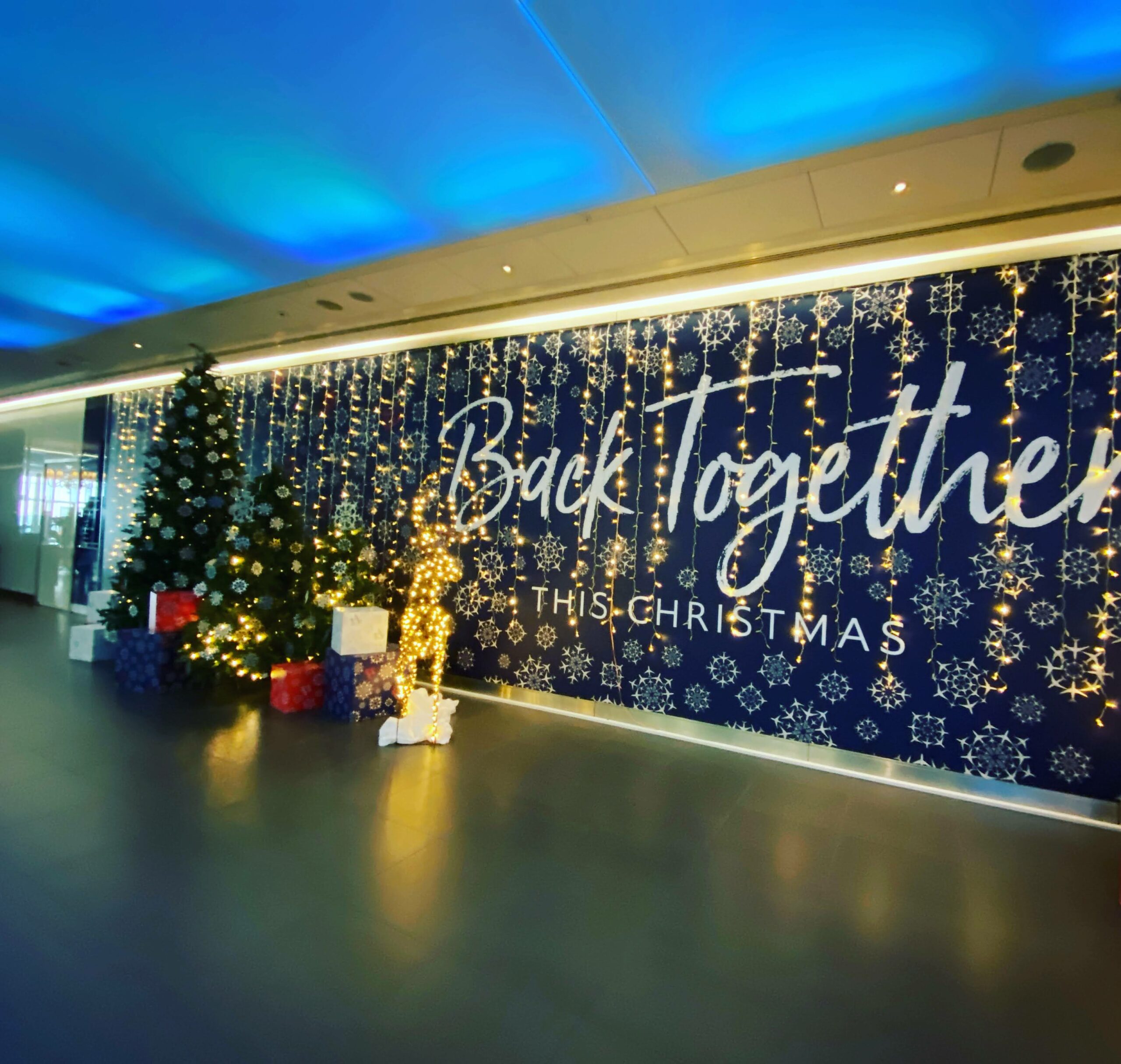 It was good to see that there were also some festive specials such as the cocktail that came with a pretty snowflake mat (that apparently people kept nicking!). Despite mentioning milk in the description, it doesn't have normal milk just poured in it! It tasted like an alcoholic but lighter version of a mince pie!


Love the festive mats with the planes – BA you should sell these!
It was mid-morning so I went for my usual California eggs which is avocado on toast with poached eggs.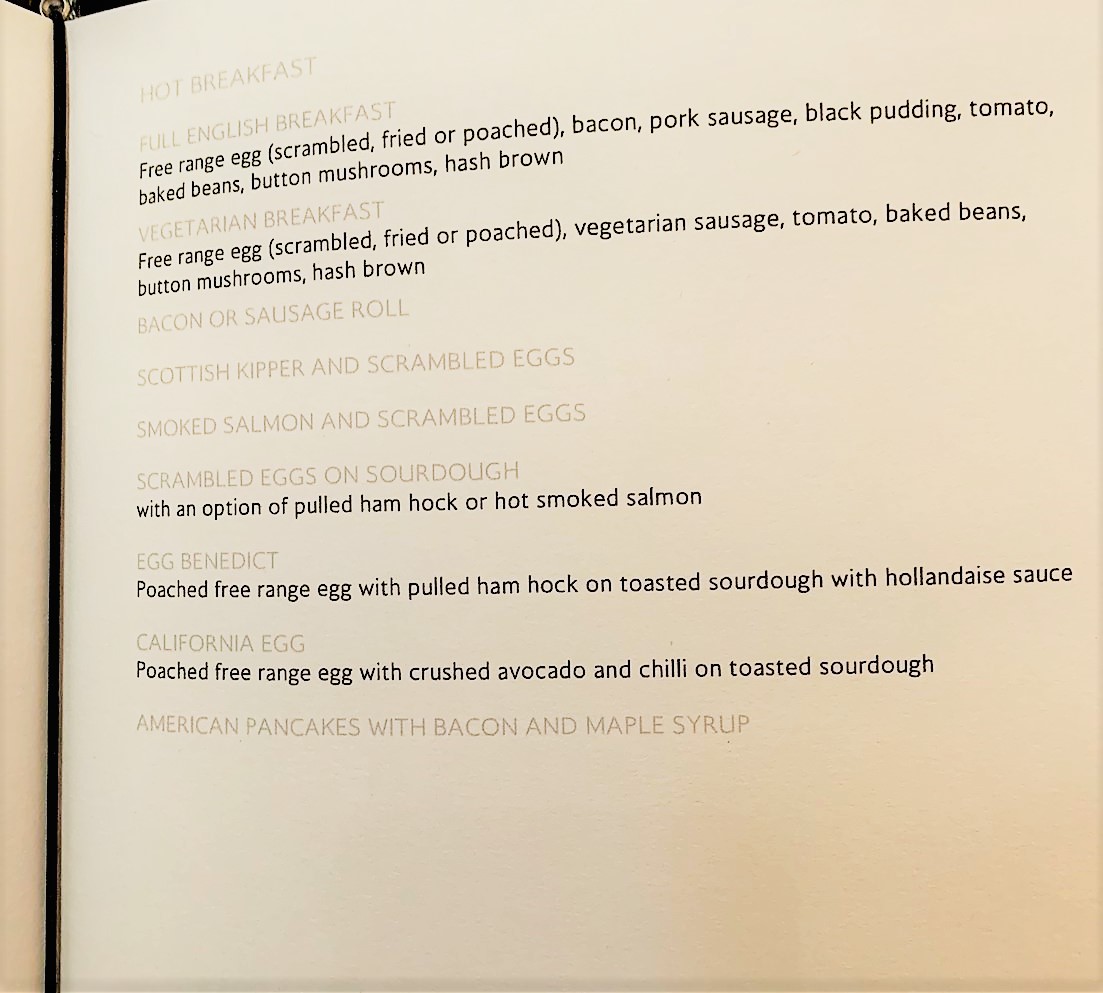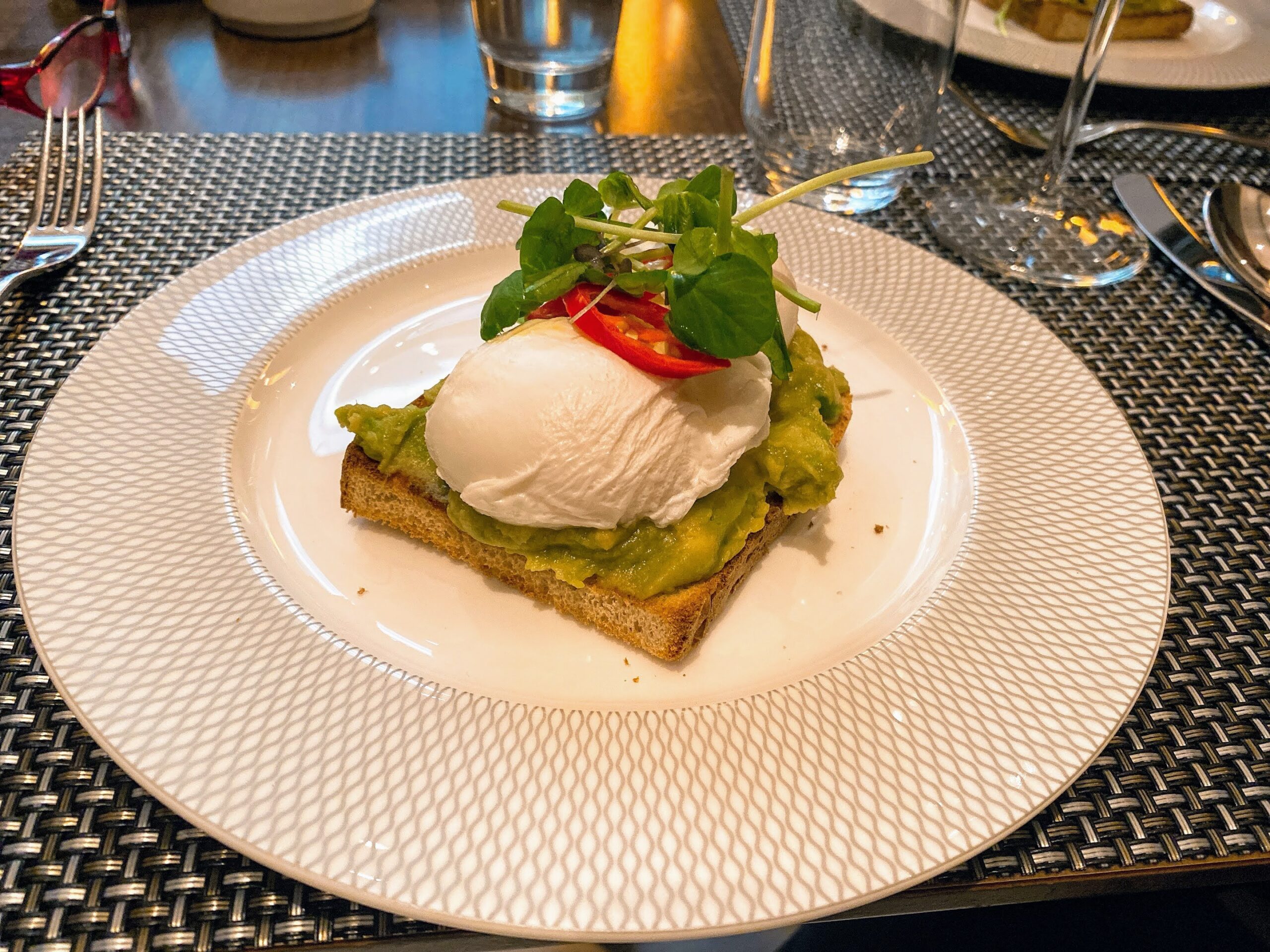 Service was good in the Concorde room until after the meal when we ventured onto the terrace. There appeared to be a new member of staff who seemed a little like a rabbit in the headlights and it took ages to get drinks or a glass of water. 
 
We were departing from the C gates so took the train over to the C gates. Boarding was done by group number so we boarded early being in group 1. 
We had been considering upgrading to First. Depsite there still being seats left no Avios seats were ever released while I had an alert set for several months. We did consider upgrading at the airport and paying cash but as there was only one window seat left, we decided not to bother.
The flight was around 60% full and as I'm Gold Guest List I had had the seat next to me blocked. Being the old seat configuration which I really don't like due to facing each other during Covid, of course, someone decided to switch seats onboard and sit right next to me. For those that don't know, there is something called theoretical seating that blocks empty seats next to gold and above status holders. Obviously if the plane is full this disappeared when check-in opens. When it's not full it usually sticks. However, then people on board move around, cabin crew mainly don't even know about theoretical seating and so allow anyone to sit somewhere else if they fancy it. So it's pretty pointless much of the time.
I was given a menu, a bottle of water and the usual club world amenity kit by White Company.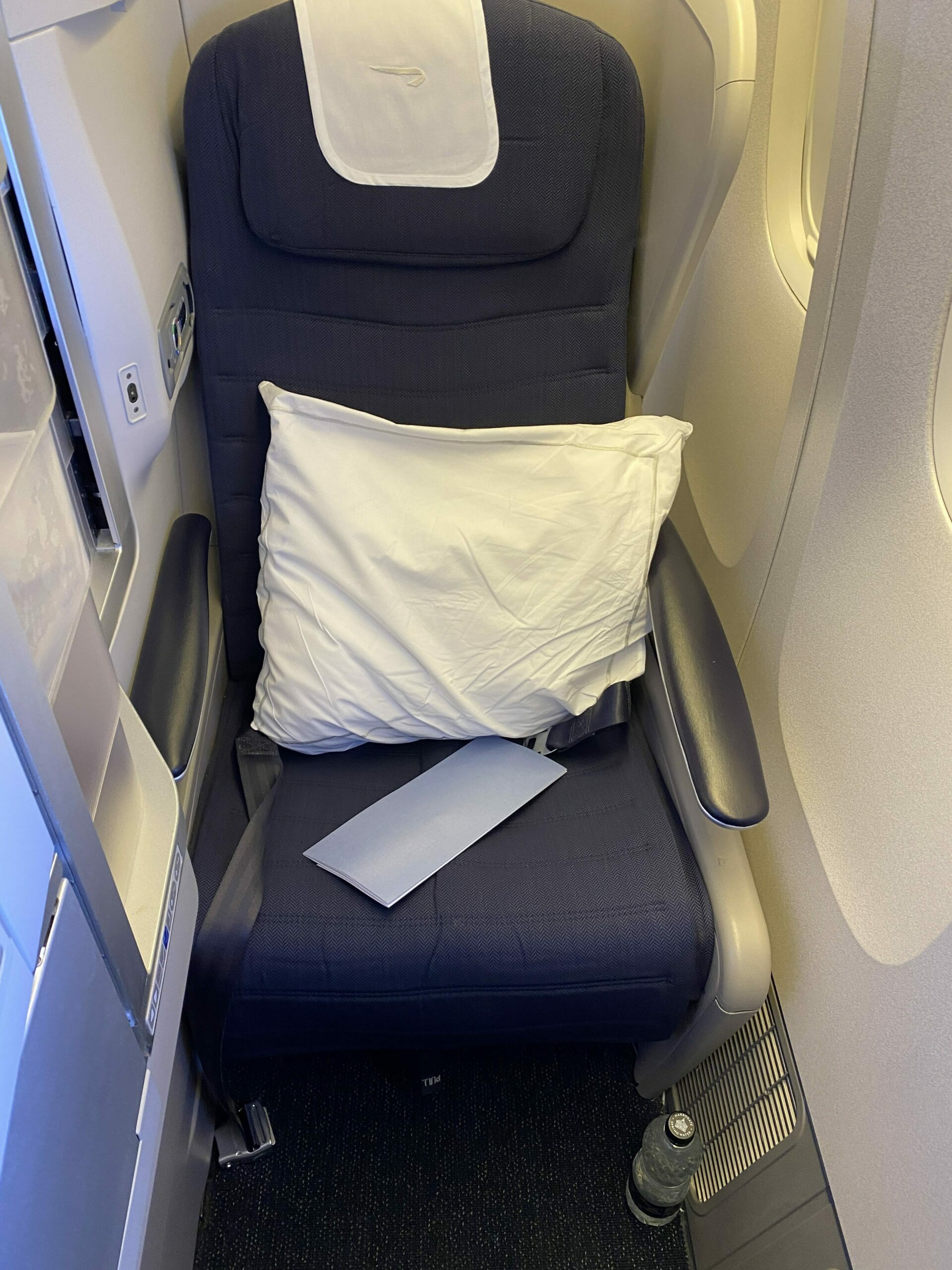 This was a big disappointment as I had deliberately chosen this flight as new Club Suites. I find it amazing that on one of their most premium routes, they would not try to put aircraft with Club Suites on. It's not like they even changed the aircraft type. It was still a B777-300ER but without the Club Suites. Yet prices now to Los Angeles are around £3300 until June 2022. That's a lot of money for an old seat.
We both wanted a window seat without being climbed over or climbing over anyone else. Therefore the only option on this type is the last row, row 16 on opposite sides.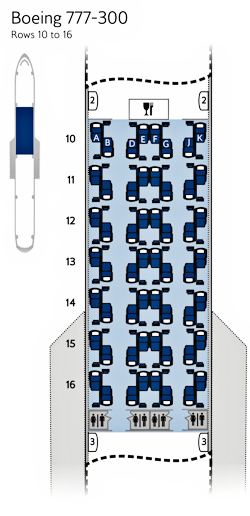 The seat was in good condition and still reasonably comfortable. However, having flown the Club Suite on my previous flights it felt very cramped and I hated not having anywhere to keep things in reach. Yes, there is a drawer but it's at ground level so if you have the table out during a meal it's hard to reach and it's impossible when sleeping with the bed flat. Fortunately, BA are expecting to refurbish all their B777s by the end of 2022 with the Club Suites. 
16K
Bedding was the White and Company pack with a very thin mattress topper but a nice silky quilt and a large plump pillow. I managed to have a couple of hours disco nap only with the help of earplugs and at times noise cancelling headphones to thanks to the mother who played their child's TV programs or game at full volume the entire flight. Overall, I still find the old Club World seats comfortable for sleeping. 
I was given a two-word recognition of my status "Welcome back" and to be fair that's more than I have got in 2021 apart from when my friend knew the crew member serving us. I don't particularly want the awkward speech or to be fawned over but it's nice occasionally to be asked if there is anything they can do for you, particularly when it wasn't a busy cabin.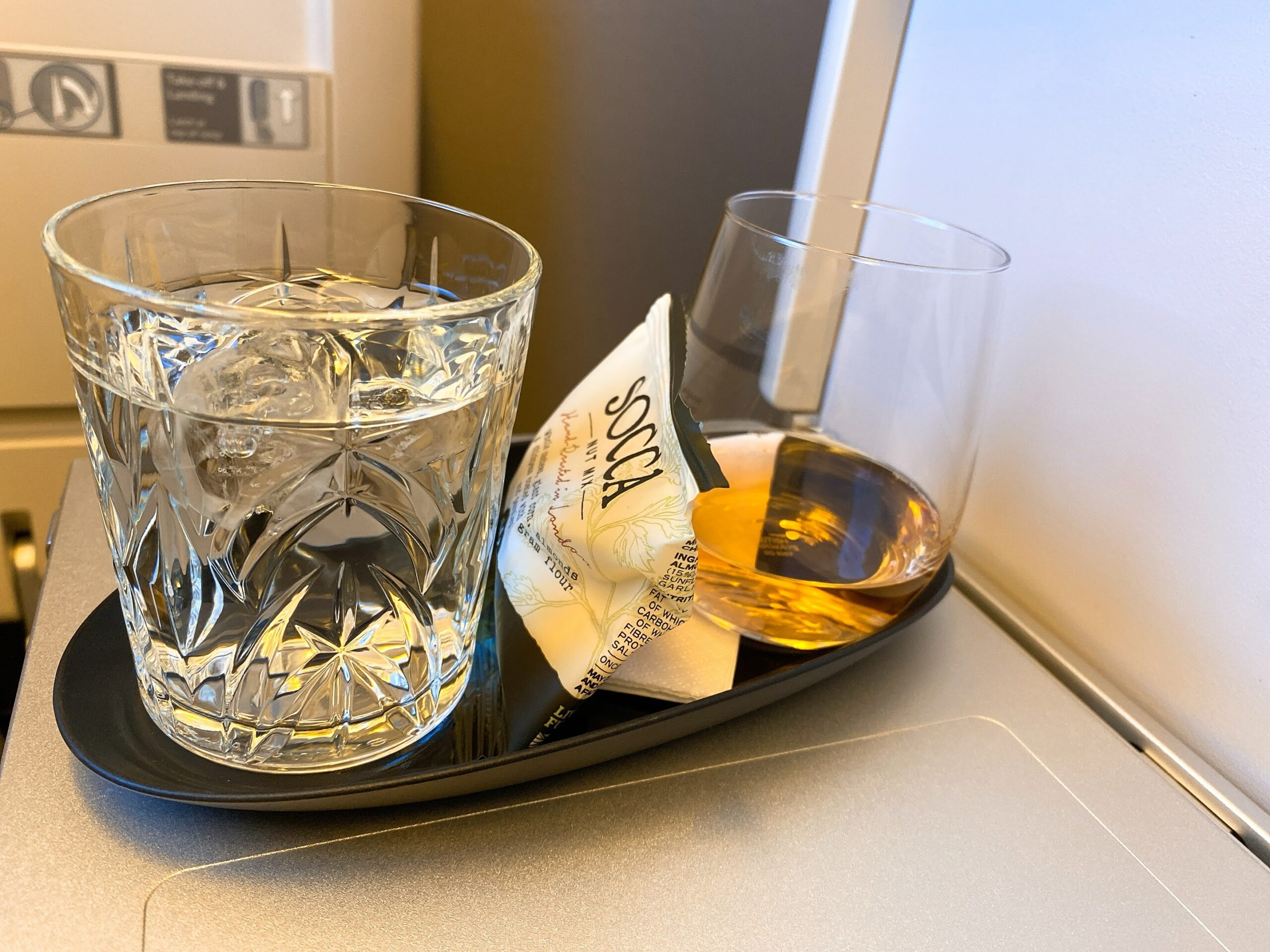 I was offered a drink before lunch and I decided to try the Rosé champagne. I asked the cabin crew if I could try it but he did not seem to understand the concept of pouring someone a taste and then waiting for them to try it. He poured about a quarter of a glass and then when I looked up he had already gone. He did return eventually after a while when he was doing top-ups and went from one extreme to the other with a pint of champagne! I quite liked the Besserat de Bellafon champagne although it was a little drier and less fruity than my usual Rosé favourites.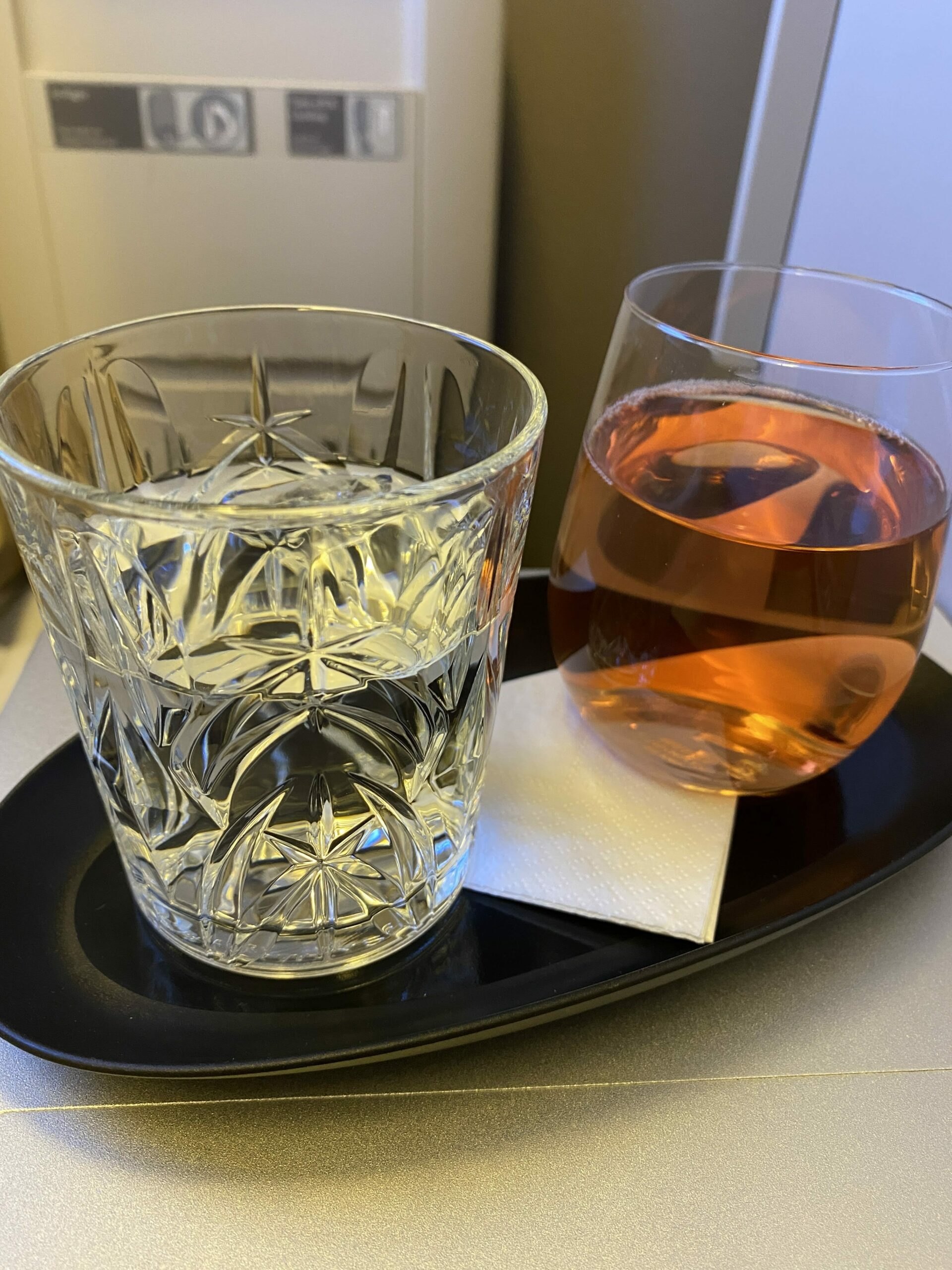 I do wish BA would get rid of the nuts and replace them with something else. I'm not a fan of the current nut mix that doesn't even have many nuts. So why not replace it with something more interesting that can be served to people with nut allergies as well? 
Here is the drinks list.
My friend Katie in London enjoyed the Gin Zing cocktail.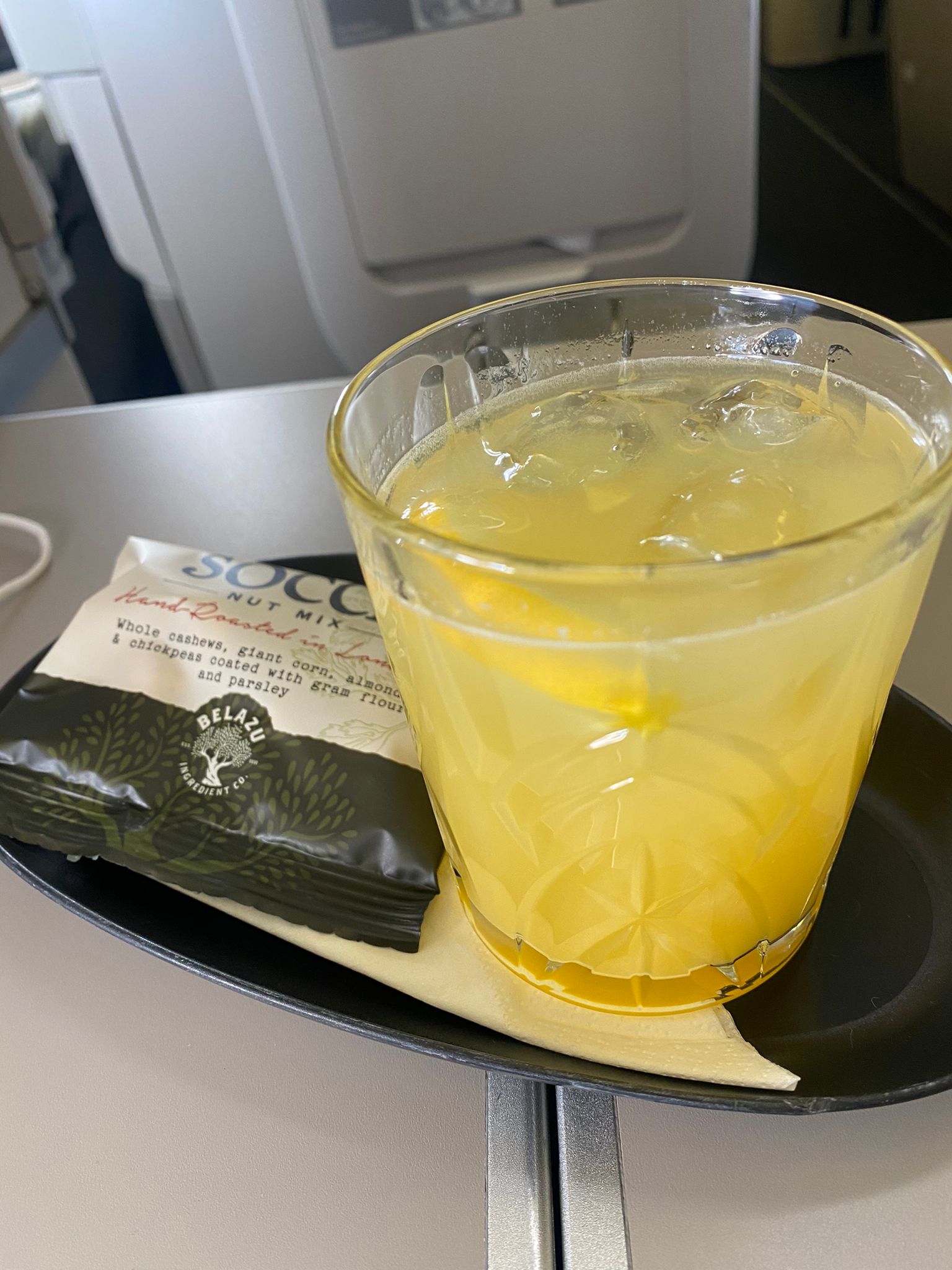 It appears that there may be a different service on New York flight as there a choice of starters was offered and the crew assured me this was the norm. Here there was just one starter but a choice of mains. 
Here is the lunch menu: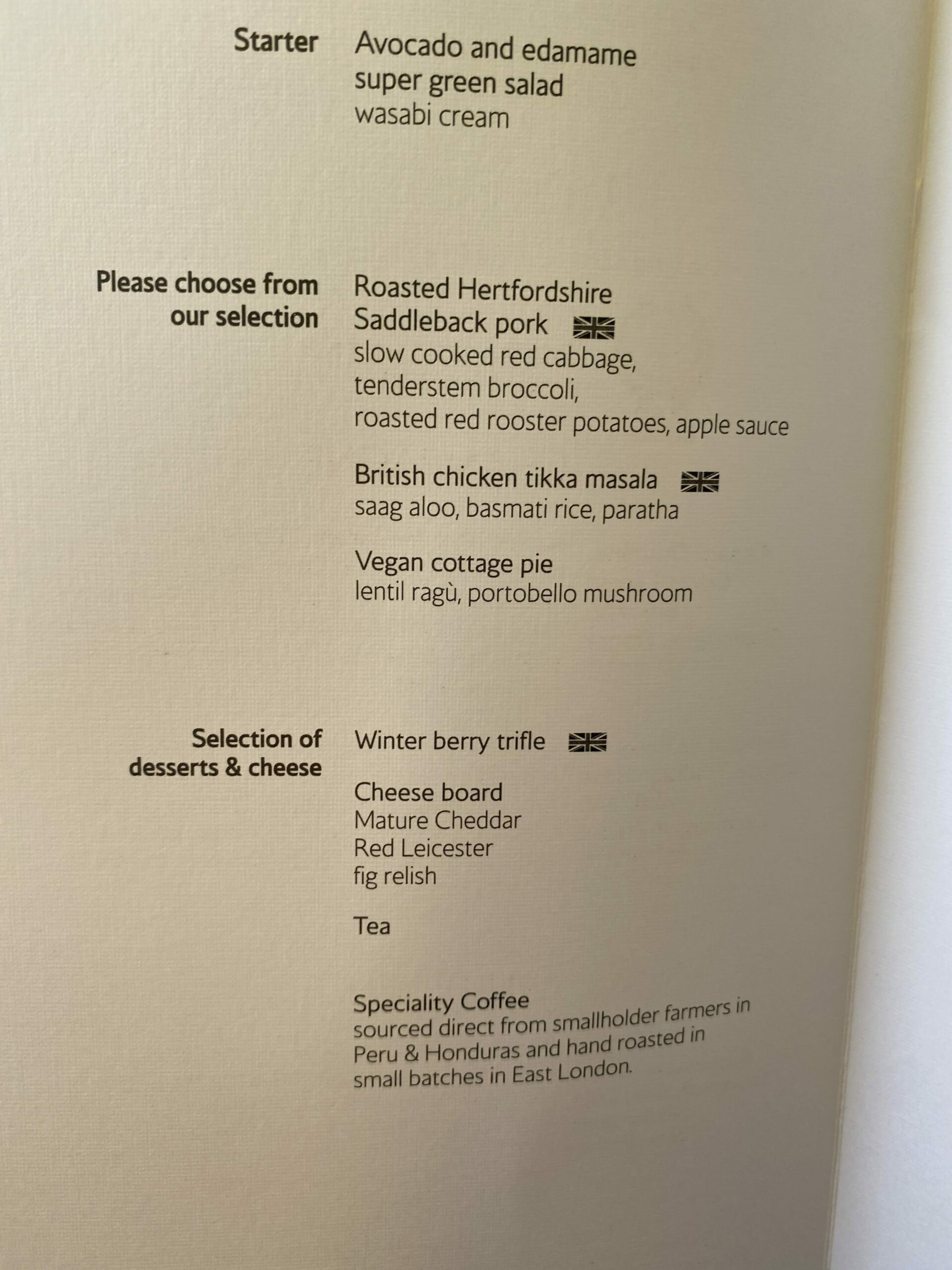 It all sounded great but how was it in reality?
Starter
I'm sorry, I'm a BA fan and GGL but this starter was just pitiful. When charging £3.5k for an old seat, I'd expect more than half a tomato, half a lettuce leaf, and a couple of bits of avocado. The whole meal came on one tray which most airlines have now abandoned. (Virgin definitely have).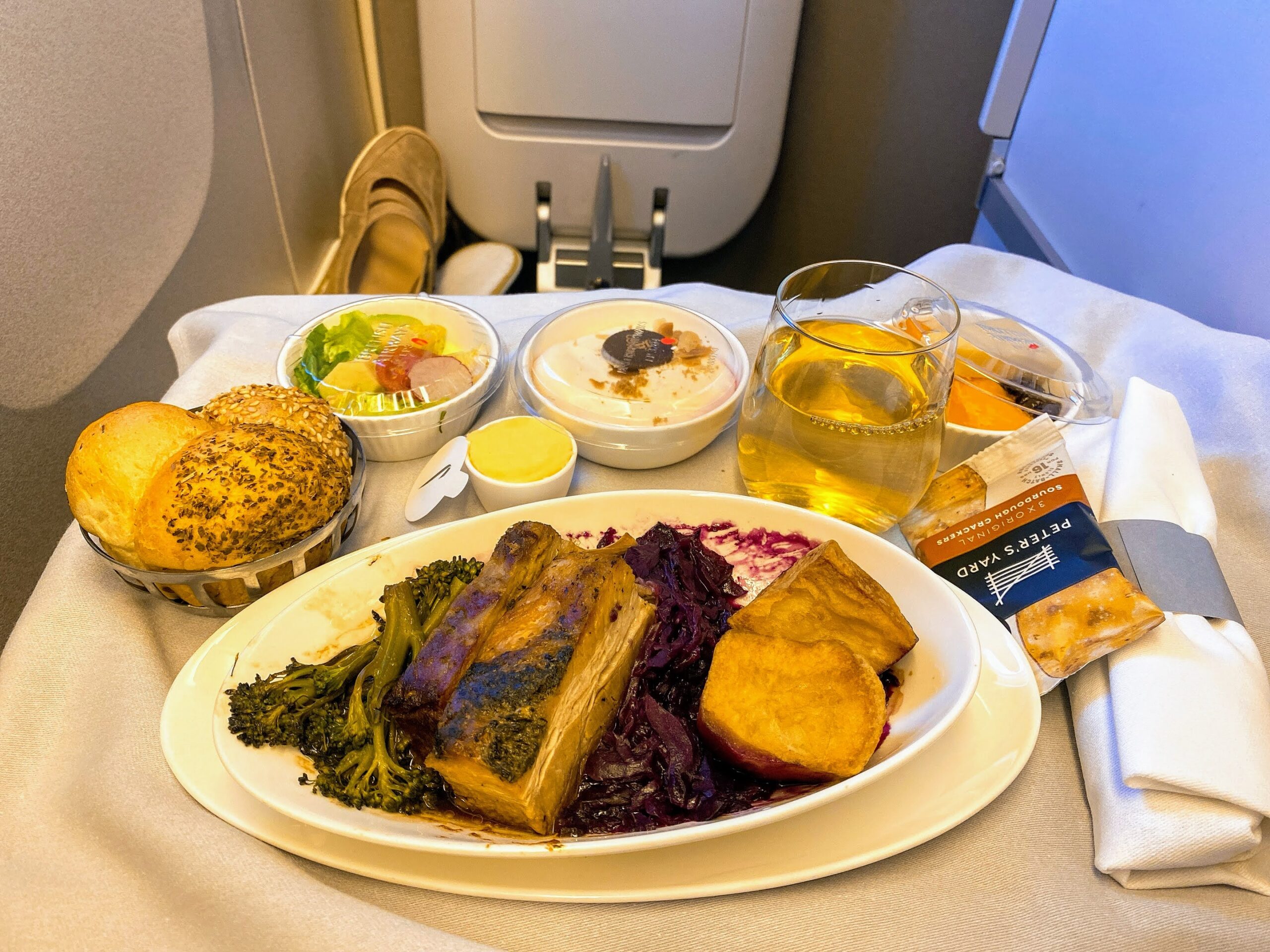 The three roll bread was back which is really tasty, though if you want to save money, why not just serve one? I liked the herb one the best.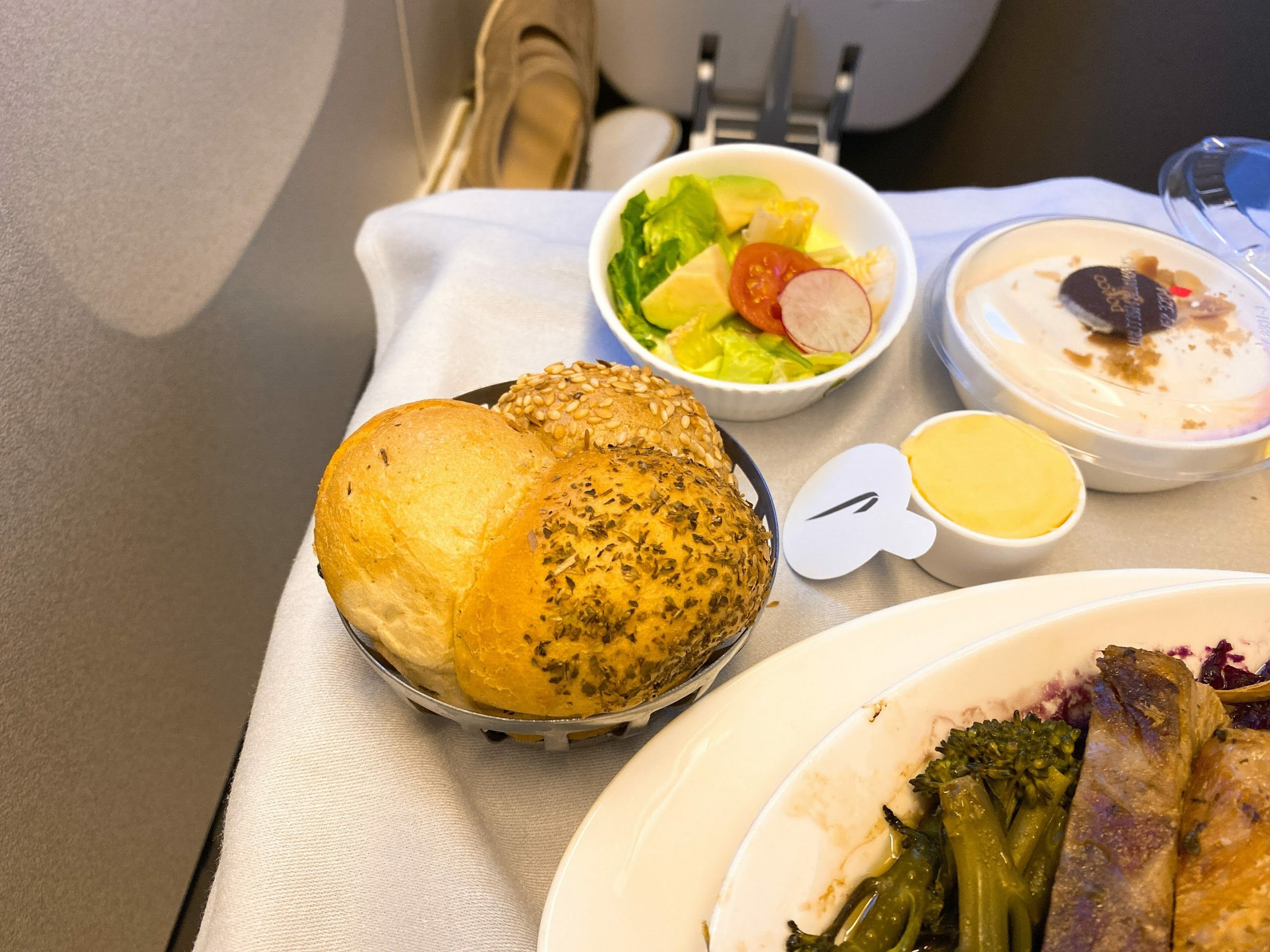 I chose the pork as a main course and this was pretty good. If I'd had it in a gastropub I'd be quite happy apart from the soggy brocolli. Yes, the roast potatoes could have been a little crisper, but it's on a plane so you have to make allowances. The pork, however, was lovely and tender, not too fatty and the red cabbage was soft, moist and sweet but not overcooked. I went slightly off piste in terms of etiquette and had it with the Hahn Chardonnay initially but then had a glass of the Wakefield Cabernet Sauvignon. Both are wines around the £10-15 mark retail that I enjoy and have bought myself. It's good to see some decent wines being served in Club.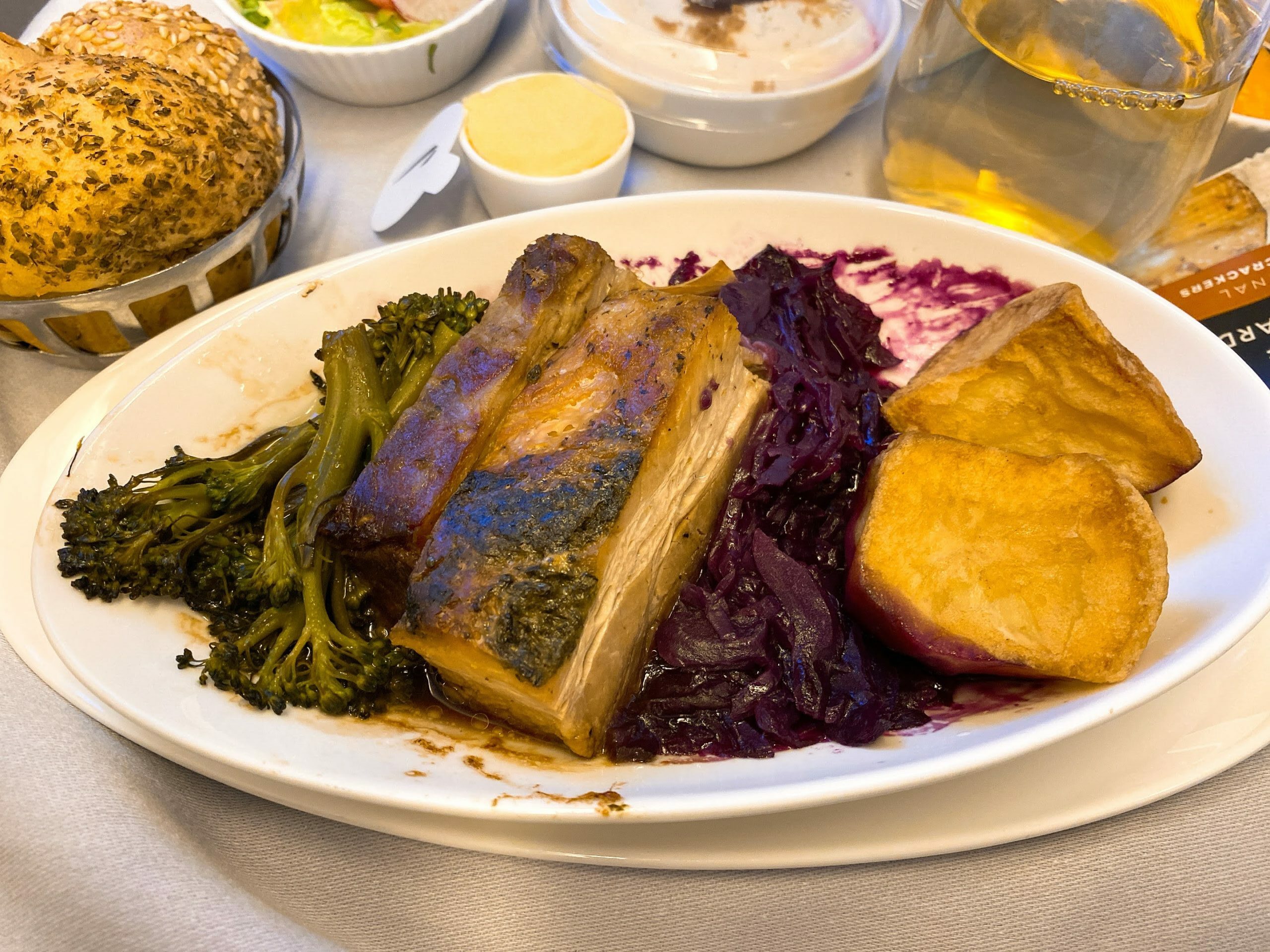 The winter berry trifle was also good with a decent balance of fruit, custard and cream plus a touch of spice. 
The second meal was probably better than the first was served around 2 hours before landing.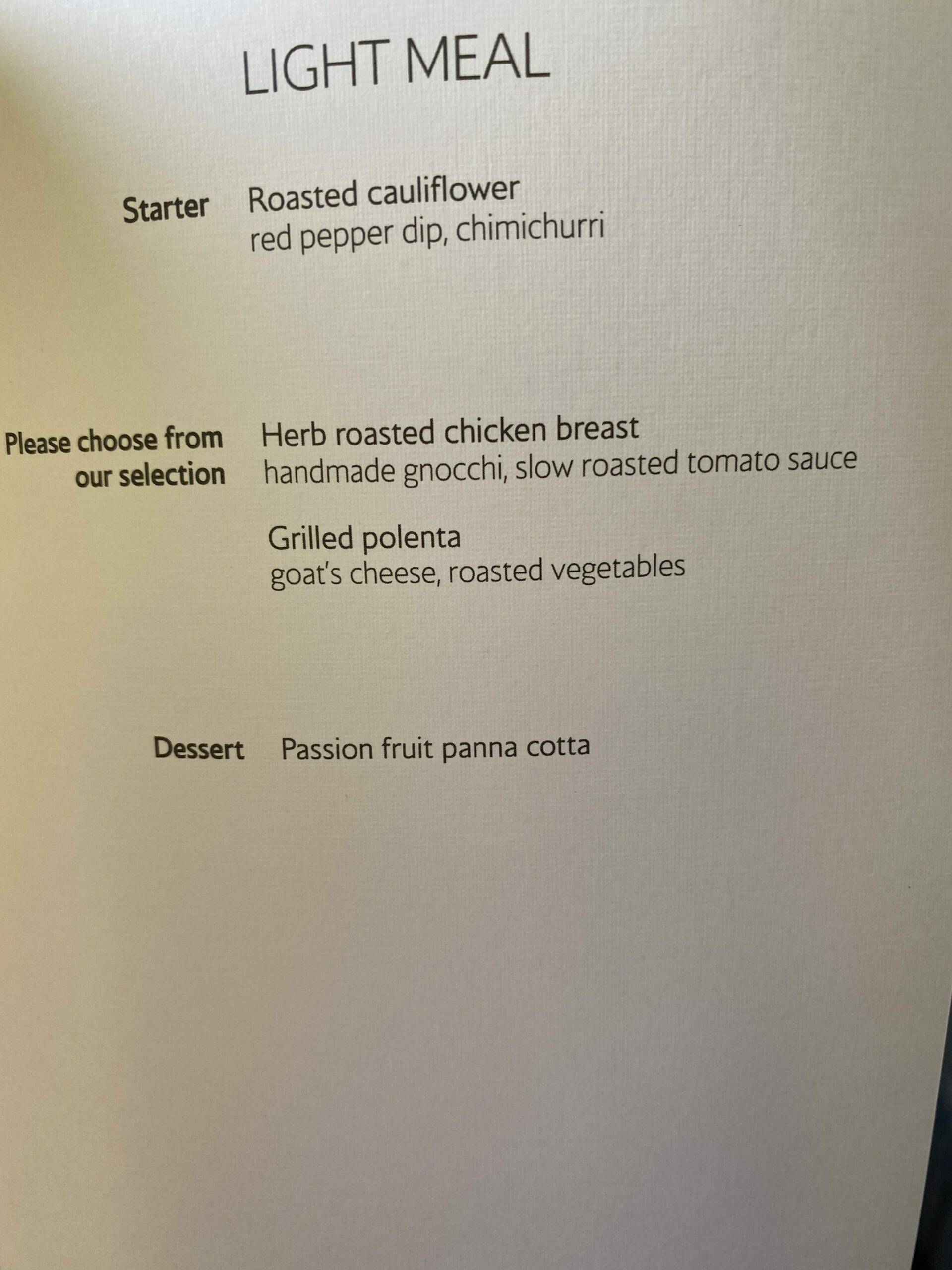 It felt like the balance of the meals was all wrong. Most people don't necessarily want a massive meal before getting off when landing mid-afternoon. I would imagine many people would like to go out for dinner. I'd rather have a choice of something lighter to keep me going until the next proper meal time. Of course, there is the Club Kitchen but on this flight by mid flight there was nothing left apart from biscuits. 
This was called a light meal but had just as much food as the first! I think offering a lighter meal as an option would save BA money they could spend elsewhere and give people a choice. Afternoon tea was always a choice I enjoyed or the cold tapas plate. Again there was a three-type bread roll which seems unnecessary.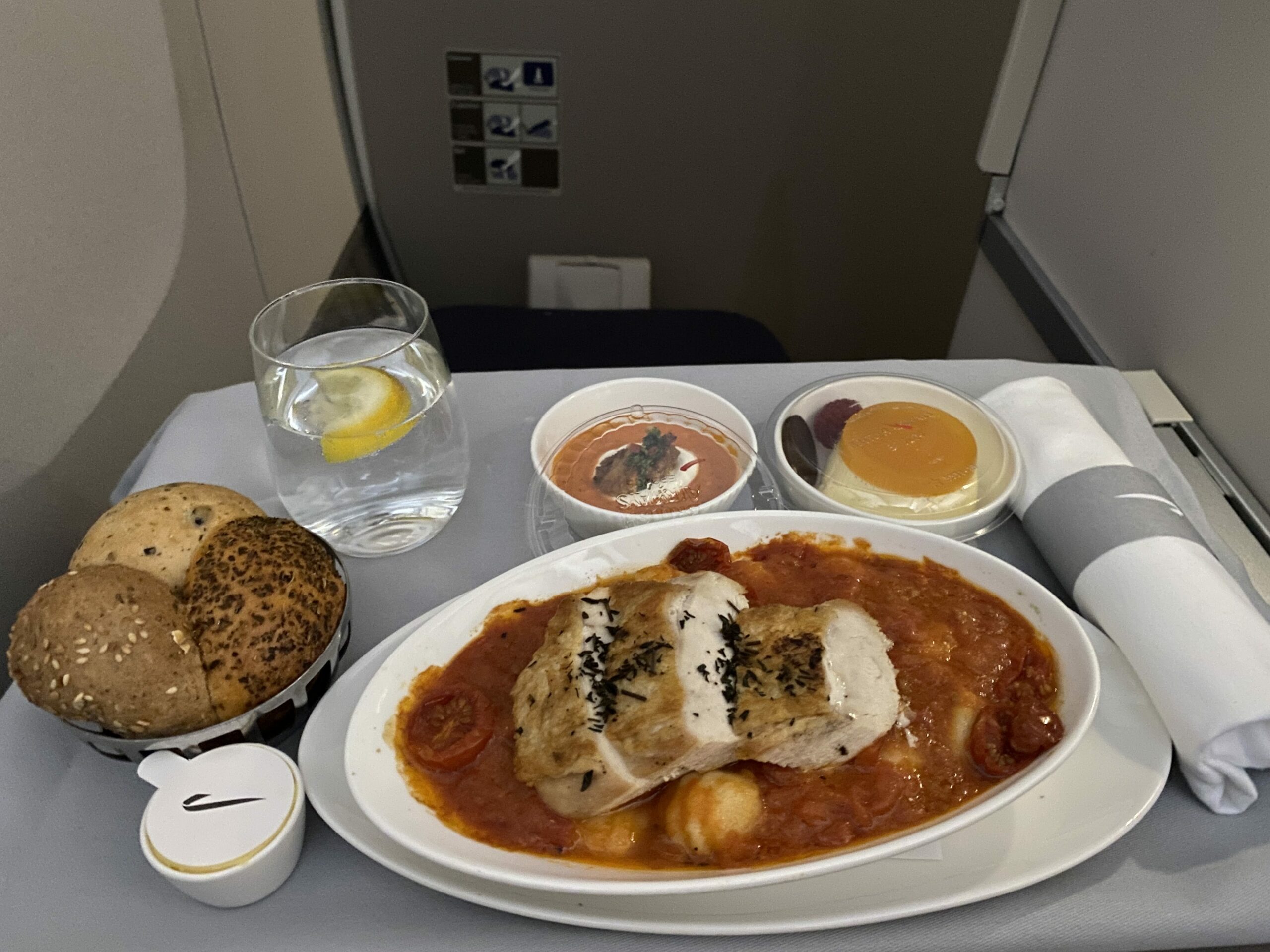 There was absolutely nothing wrong with the food, it was very tasty but it feels like they are spending money in the wrong places. The chicken was incredibly filling as it had lots of gnocci underneath and although they weren't too stodgy, they were on the heavy side. 
The staff member serving me was fine and fairly friendly although I did find it odd that he didn't understand about pouring someone a taste of wine.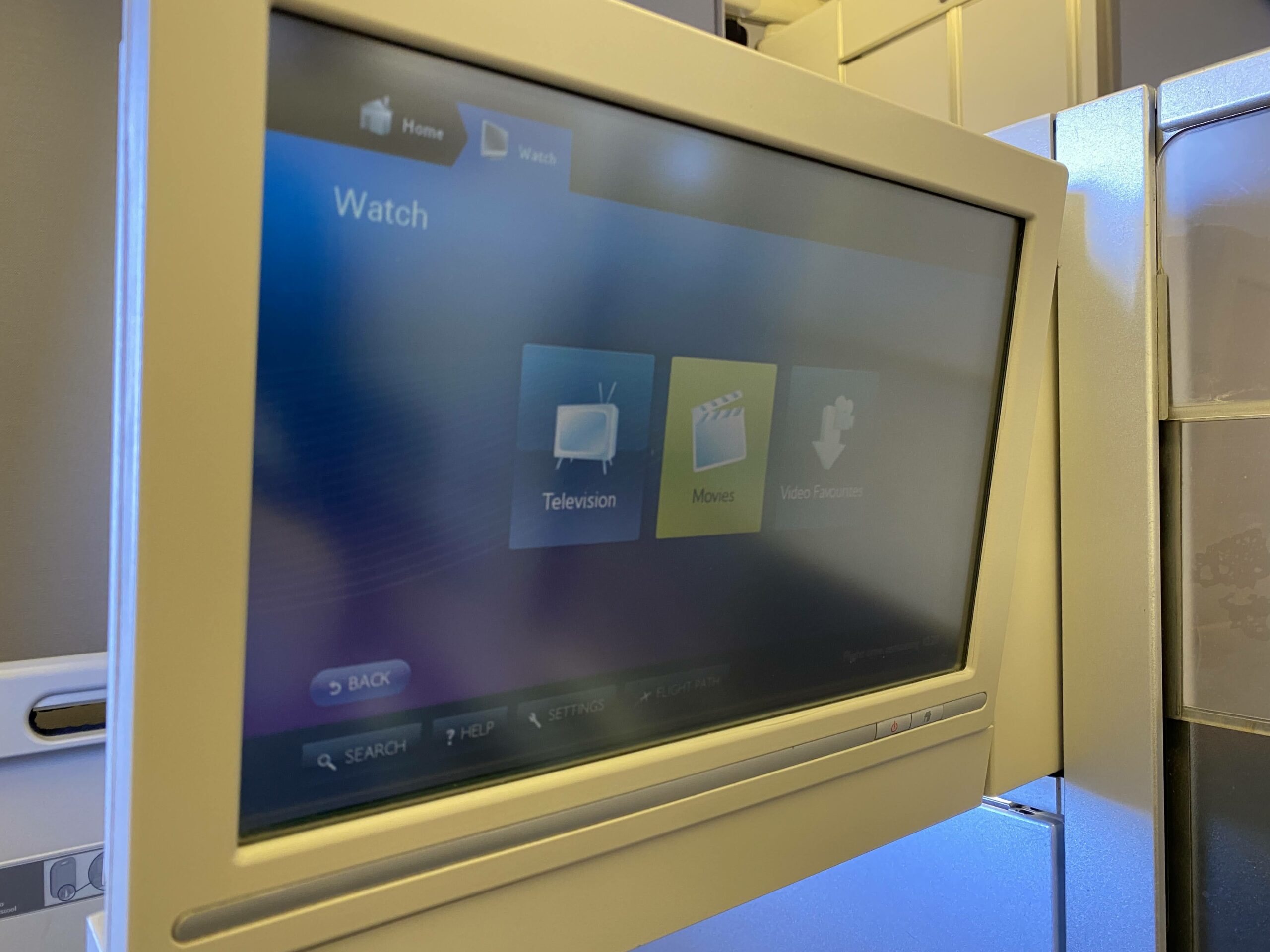 The screen was a decent size with reasonable definition but it was nowhere near the standard of the Club Suite. Everytime I moved or there was a bit of turbulence the screen swung as it would not fix properly in place which is often an issue with this design of screen.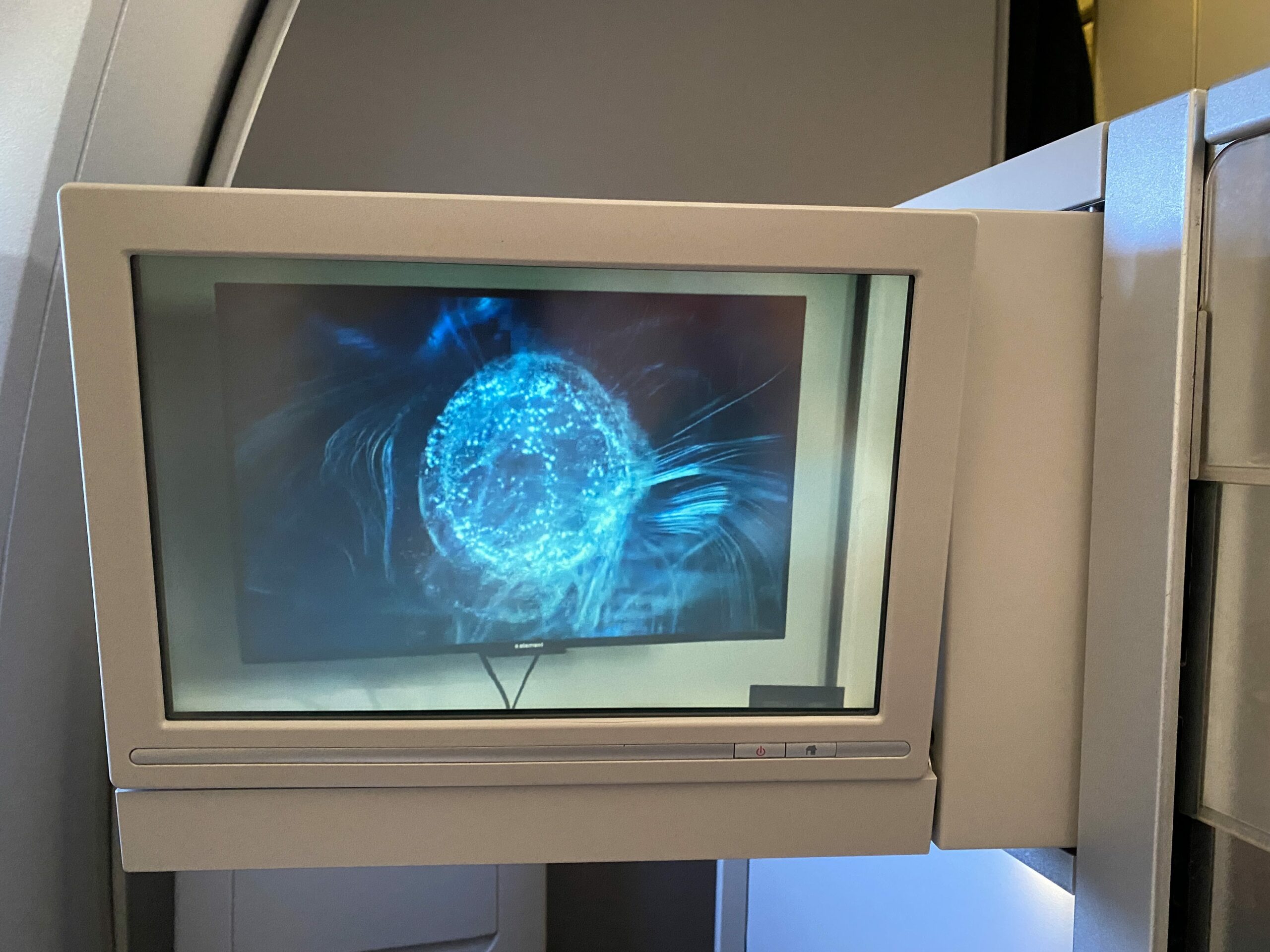 There was a choice of new films  and a few classics. I am a James Corden fan so I decided to watch the comedy SuperInteliggence with Melissa McCarthy & James Corden. The best I can describe it as was mildly entertaining and I ended up giving up on it eventually. 
I used the messaging service for the first time as normally I buy the full Wi-Fi package for £14.99. This time I also tried the basic messaging service which starts from £2.99 which did allow you to send photos and receive them which I hadn't been sure about. However, they were very, very slow! I found the Wi-fi dropped out quite a bit but it was fine when it actually worked.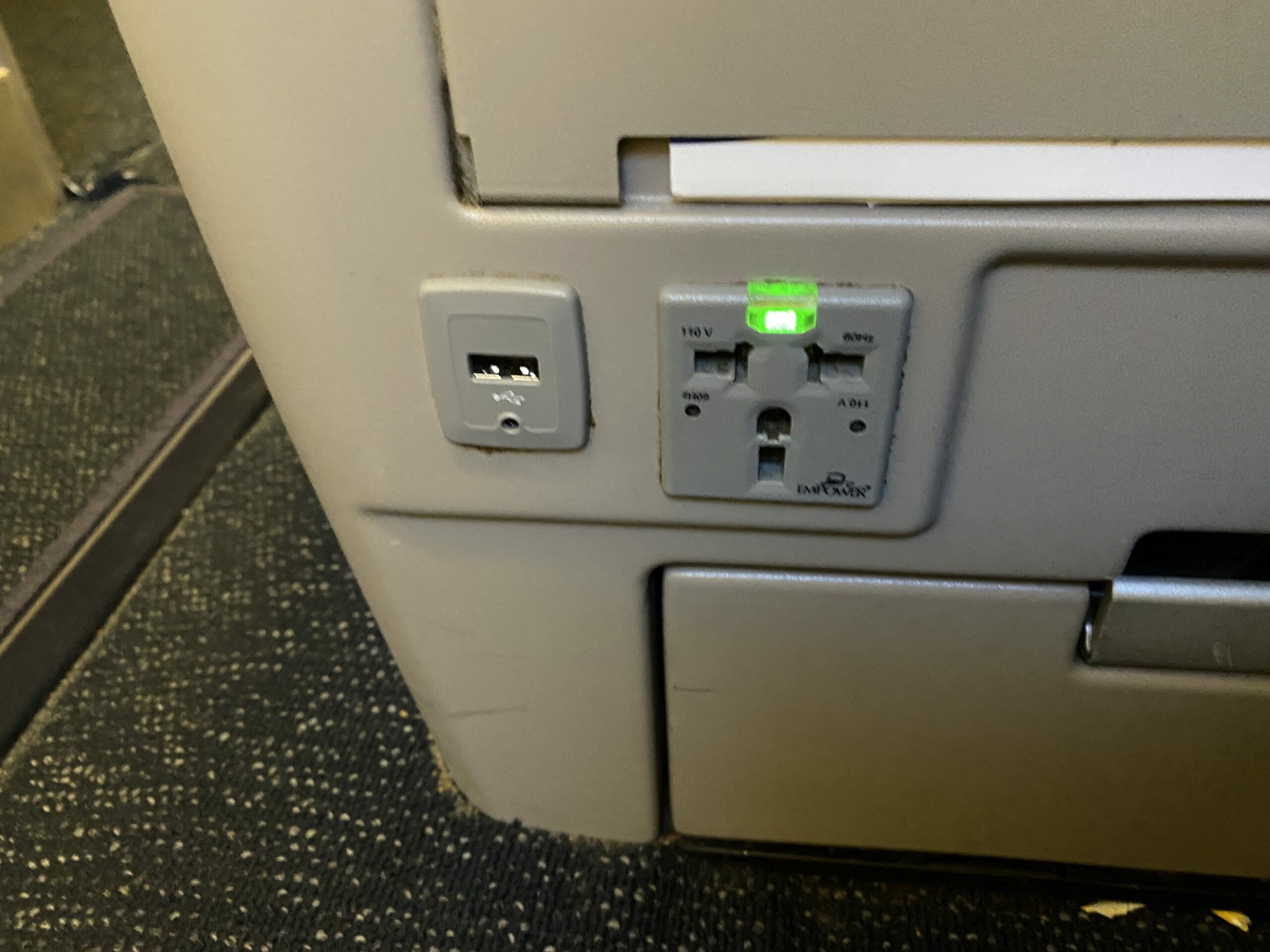 There was a USB and a multi country socket at floor level. 
 
Views appproaching Los Angeles
I had Global entry and this was my quickest exit yet. There was a Border Force Officer standing by the terminals. I simply looked at the screen and a few seconds later it gave me a green tick and I was on my way. No questions from the officer either and no print out like you usually get. You can find more about getting Global Entry here.
By contrast, Katie who doesn't have GE but was off at about the same time as me waited for around 25-30 minutes to get through immigration. By the time she arrived all the luggage was ready at least! 
Los Angeles has a new Uber arrangement that if you want to be picked up at the terminal you need to order at least a Black category of Uber. Otherwose you will need to walk or get the shuttle to the parking lot for pick-up. 
 
This was a very average flight. The seats were old, the crew were average, the meal was average but at least most dishes were fairly tasty. Had I been in a Club Suite then I am sure it would have felt a lot better even with the same food and drink.
It probably didn't help that we had a toddler in the middle seats between us that alternated between screaming or being played videos/games at full volume with no earphones for 10 hours. And yes I had my noise cancelling headphones AND ear plugs at one point! Obviously this did put either of us in the best mood during the flight. Before all the parents jump on me in the comments, I understand babies cry, but not having headphones for a child that they are used to for a flight and expecting everyone in the cabin to listen to the incessantly repetitive tinny music for 10 hours is not acceptable in my book. 
But for me in terms of value for money for the BA product it was fine for what I paid but there is no way I would pay over £3000 for it. 
Well Michelle, you have beautifully summed up the new BA! Gone are the days of the World's favourite airline with great on board service from well trained staff who at least know the difference between champagne and a can of Tizer. It's atrocious. Successive CEO's since Walsh have done their bit to destroy the airline as they have no idea of luxury, finesse or passenger expectations. They have progressively cut costs and cost and costs until we are left with what you describe – £3300? I dont think so.
I am sitting on 0.85 million Avios and 3 AmEx 2 4 1's and finding it desperately difficult to use them. Im not going to waste any on Club Europe which is "cheap" anyway.
The lowering of cabin crew to Mixed Fleet standards is indescribably ridiculous. There is no comparison between them and the marvellous "Legacy" crew members.
However, if people keep flying with them, then the fools up top will thinks that al is well – it's not and there is lots of competition light years ahead in standards and facilities. It's almost got to the point now that the best part of flying BA is F check in and the Concorde Room – and that's a pretty poor show. Maybe I should buy a share in BA…..then I can speak up for Exec Club members at the AGM!!!
I keep saying this on varying sites, when covid has left the room I really feel like BA will have lost a lot of premium custom.
They just don't get it.
Staff disillusioned
New staff under trained
Product super out dated
Beds uncomfortable
Prices now very high
Agree completely about the kid with noisy devices. Our 5 year old loves her headphones and we wouldn't want to listen to all that stuff for 11 hours, never mind inflict it on others.
The BA crew should have had a quiet word with the parent. It shouldn't be left to passengers to police the cabin.
I have had too many sub-standard flights in CW on 777s. When booking, if it's a 777 service, I abandon and look elsewhere. My last two trips have been with Etihad and Qatar Airways. Avios and status are little value when the product is so poor.
I noticed our flights back from Chicago in June have just been swapped from 777 Club Suites to A380 old style! Also over £200 each to reserve upstairs cabin. Yuk – just hope for another aircraft change before then.
The prices for seat reservations are outrageous. Hopefully it's either quiet and you get your seats upstairs which at least with the window seat solves the storage issue or it changes again!
Poorly written. It reads as though nothing was right after no recognition for status
I don't think you can say that when I said that I enjoyed a lot of the food and the wine. I also said that the seat was comfortable and that the bedding was good. Plus that the crew was friendly.
If you read all that as nothing was right then you are the one being negative.
I think it is a well observed and objective review of a very average flight that many of us can relate to.
It looks it was a poor flight, I wouldn't be happy at all. I try to avoid BA whenever it's possible however US destinations are a bit tricky. Never use BA for Far East, Oz or South America. Waste of money
I had hoped the merging of the workforce would have brought us the experience and professionalism of the legacy crew and the freshness and enthusiasm of mixed fleet crew. It may happen but I'm not seeing it yet on my travels.
As for champagne in a tumbler!! 😳😳
Why did you not complain about the noise?
For me it would have lasted about a minute before I would complain!
Not acceptable.
Most of the above comments endorse my previous posting with regards to my most recent trip on BA. One would've thought that they would go that extra mile to attract people back on board post Covid lockdown etc., and return to the once acclaimed outstanding cabin product that we all so fondly remember before consecutive CEOs destroyed it??
Like the other readers I have so many Avios [and companion E tickets] to redeem but probably will redeem on other airlines within One World group. Lastly I submitted an expense claim with a strong complaint as to what happened on my last flight and needless to say I've not heard a 'dickie'………after 5 weeks???
I complained to crew, 3 times, about 70% of pax in club cabin not wearing masks on flight back from maldives 12 Dec. Crew only once spoke to one pax.
I have complained to BA but rubbish response.
Good review.
I've just flown BA to Rio on prem eco. Wife and I only fly BA if necessary. Everytime find staff obnoxious and rude… Seem to have some sort of attitude issue across the board.
Our seat was great but also had a kid crying the entire time… We mentioned it to staff in addition to others and nothing done. Was purgatory for all 12 hours even with NC Sony h/phones. Food options were minimal and food not so great. Hardly any entertainment to choose from so used my phone or tablet majority of the flight.
Fortunately for once Heathrow and Rio airports and going through all the necessary covid hoops was quick and well organised. Easier than times pré covid which was a surprise to us.
Also find that using up the 500k of avios pts we've saved over the years more and more difficult to actually use with fewer and fewer offers like there were even just a couple years ago.
Once again, BA straggling behind the likes of klm/af/alitalia imo nevermind Qatar, Emirates, Singapore etc.
I'm astonished at the prices for hiring a car at the moment – really feels like you're being gouged by them all.
I was advised by a travel agent we're currently using that the larger companies are doing this to 'manage demand'… ridiculous line to take!
It's because during the pandemic many were in severe financial difficulties so they sold loads of cars. And now don't have enough!
In America particularly the prices to UK for car hire is ridiculous. On a hunch I downloaded a vpn and connected to a USA server and then went back to Hertz and Alamo. Com sites. The prices were 40% less than trying to book from the UK. In the case of Hertz on the UK site I was quoted £3k for a week in a luxury car. Same request via USA vpn was £800. They are using the EU's cookie prompt to pull through your UK location and then gouge!
Sadly this has been the case with many countries for car hire for quite a while. Often there is a clause that you need to be a resident or have a local driving license to get the cheaper rate.
I'm glad it's not just me that feel, BA premium service is on the decline. They should decide whether they want to get back to being the world's favourite airline, or just be a mediocre choice for people with money to burn.
Great review but it convinces me that there's always, at the present time, a better alternative than BA for long haul travel.
BA DOES NOT EVEN OPEN UP FC SEATS OR BUSINESS USING MILES..SO WILL SPEND MY MONEY ON VIRGIN OR AMERICAN FOR MY NEXT FULL FARE TICKET. BA HAS SURE GONE DOWNHILL
Loved this review; it's what I come to TLFL for. No detail is too small to not remark on, and that is how it should be when BA's prices put them in the same bracket as Emirates, Singapore, Qatar et al. The child noise is just intolerable; as always I entirely blame the parents.
Thanks James!
A very useful review, thank you Michele. Good suggestions on simple cost savings so as to put more value into things that matter. Agree with all the criticisms; indeed said to my wife only today that First Wing is the only thing to recommend BA at present. Dumbed down champagne even!
Keep up the pressure Michele! I have lots of Avios to use too!
Mediocrity is about all BA can hope to come up with. The new suites are good enough. I prefer AA to the USA for two reasons: The staff on the exec. plat. help line and in the lounges are empowered to really help when it's needed if things go wrong in ways BA are afraid to even think about. It's an "insurance policy" for me that with BA is a casino game. Also, AA is also very consistent in first class and business class in ways that BA should do some research on. I guess BA focus is in the wrong place and has been for many years now.
This is pretty standard for BA these days, also i agree anybody (adults/kids) listening to devices without headphones is beyond annoying, but why didnt you just ask the parents of the kid to put headphones on, ive done that on more than one occasion and i always feel instantly calmer when the annoying noises go away…
Excellent, comprehensive review. Thank you Michelle.
Why aren't BA allowing last minute Avios upgrades to F? In fact, why are Avios F seats virtually unattainable on ALL long hauls? When seats are empty BA lose revenue and passenger loyalty.
Having done the LHR-LAX route many times over the last year in F, I am surprised that this is virtually the first time I've read of someone complaining about the serving of two heavy meals on a flight to the West Coast. For many prior years I always looked forward to the scones and cream served as afternoon tea before deplaning. Now they offer a second dose of heavy "airline food". As Michelle wrote: "I think offering a lighter meal as an option would save BA money they could spend elsewhere and give people a choice."
I COMPLETELY AGREE.
Thanks David. Totally agree about F seats and in fact any J seats also on long haul other than the minimum they release at d-355. I can only assume it's part of their overall strategy of super high prices in that they think there will be high demand and they want to cash in.
When you have a first cabin on a 777, don't they board business in group 2, instead of 1?
I took the same configuration on the BA106 from MIA to LHR last week, I totally agree with you on the old configuration which is way too cramped when other airlines provide 1-2-1 J configuration.
But the cabin crew I experienced was the best ever on BA. Their service was truly outstanding on an almost full cabin. Also I agree with you on the outrageous pricing for J.
Group 1 is also for Gold and GGL status which is why I was in group 1. But yes normally Club World is group 2
What has happened to all the really experienced staff that used to work in First and Club World. I've travelled once in each cabin since Covid started and its really inexperienced " kids" that are serving you.
A lot left when BA dramatically cut their pay at the beginning of the pandemic.
I've two friends that still work for BA. One who spent three years on Concorde, so she knows her stuff. When both Mixed Fleet and Longhaul fleets mixed, the head of cabin crew, in her wisdom, got rid of a seniority based working position system. So basically the more experienced staff worked in Club and First. Now it's a free for all. So they have really inexperienced crew working in Business and First. She said it's been a disaster and everyone in BA thinks that ( even cabin crew managers) apart from the Head of Cabin Crew.
Yes that's also a good point although the seniority allowed them to choose where they wanted to work rather than assigning the more senior staff to Club and First. Most senior staff choose to work in Club and First but not all.
Though in fact the person serving me was most likely the older World Wide fleet although it could be that he previously didn't choose to work in Club.
Comments are closed.
You can read how we look after your data here
Champagne travel on a Prosecco budget. UK blog on how to travel in luxury for less. Forbes contributor. #avgeek #luxurytravel #miles #luxuryhotel
Copyright 2022 | MH Newsdesk by MH Themes