Advertiser Disclosure
The Delta companion certificates you can get from credit cards like the Delta SkyMiles® Platinum American Express Card or the Delta SkyMiles® Reserve American Express Card can easily be worth double the annual fee on both cards … but only if you can find the flights to put them to use. Fortunately, Delta just made that task much easier with one simple – but important – change.
For years, you'd have to search one day at a time to try to. Nothing available for roundtrip flights from New York City (JFK) to Miami (MIA) on Nov. 17 and returning a week later? Start your search over and try again.
But Delta just added a price calendar function when you're searching for flights using a companion ticket, allowing travelers to pull up to a month's worth of flights in one quick glance. It might seem small, but it's a critical improvement: That change can help you zero in on flights that are eligible for this perk, especially when shifting by just a day or two from an initial search.
The strings around using these certificates have made them frustrating for many travelers, as only specific fare classes are eligible. With planes filling up and airlines nearly selling out seats as travel demand surges in 2022, finding a domestic flight that qualifies has felt impossible lately to many Delta flyers who have unused companion tickets from the last two years.
Here's how this new feature works.
 
Rather than starting your search from the Delta.com homepage, you'll want to begin by selecting your Delta companion certificate. And you'll want to do it on desktop – not via the mobile app.
Log in, click your name, and select "My Profile." If you've got an unused Delta companion certificate, you'll see them under "Certificates, eCredits & Vouchers" along with any outstanding Delta eCredits from canceled flights.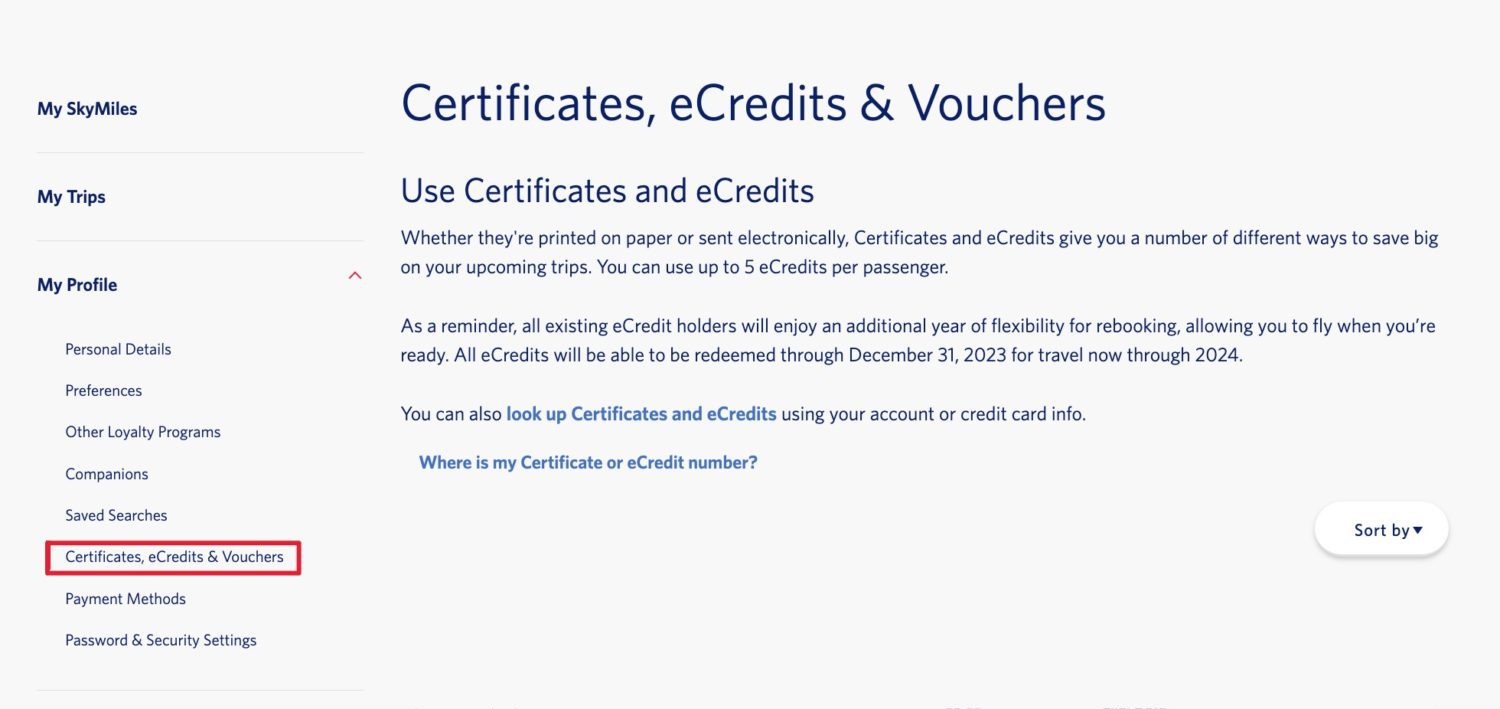 Clicking on the certificate in your profile will allow you to begin the booking and redemption process. Pick the certificate you want to use and then click "Continue."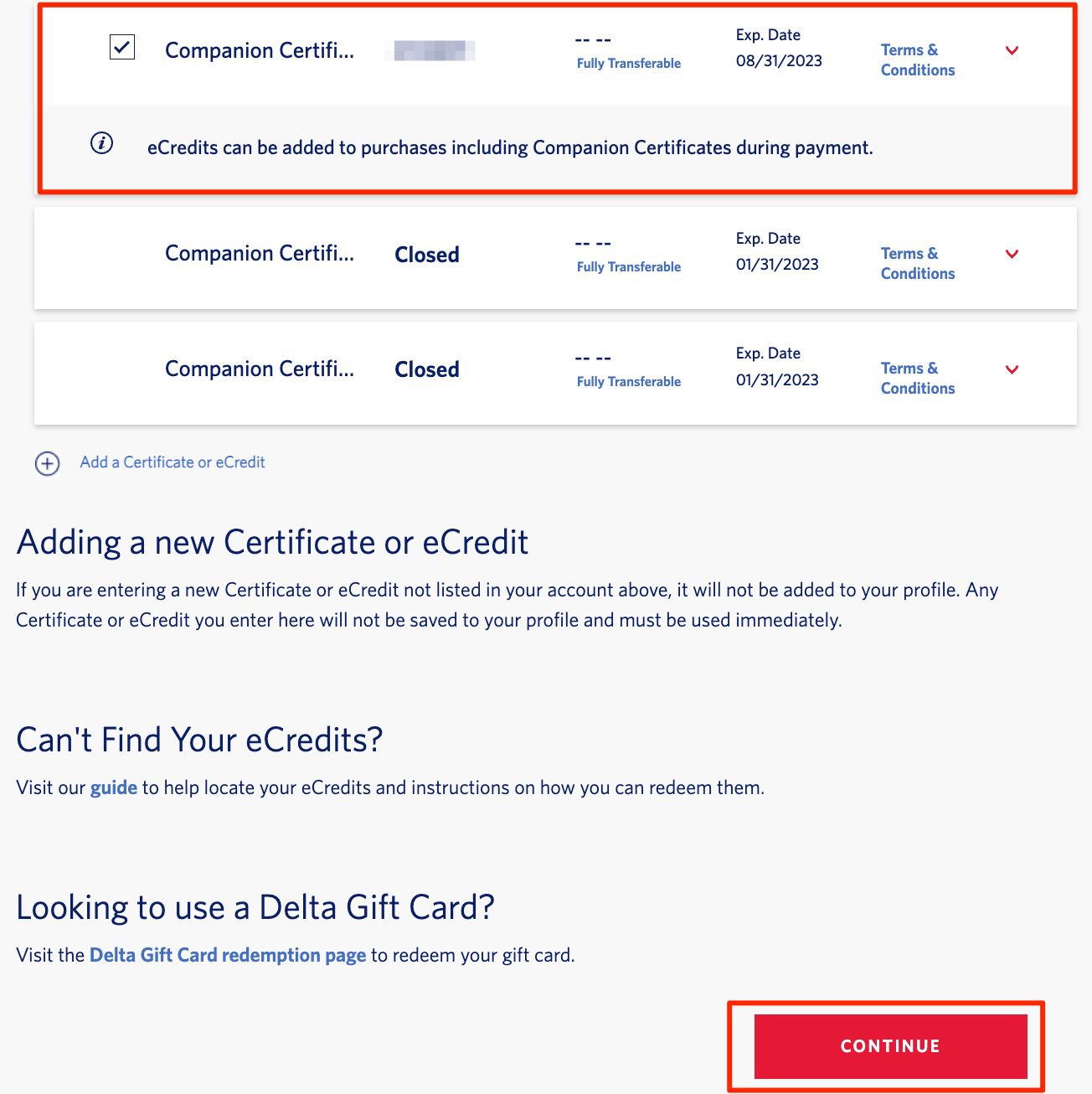 From there, just enter the route you're looking for … and remember, these companion certificates are only valid on flights within the continental U.S. – Alaska and Hawaii are off-limits, as are the U.S. territories. 
Make sure to click "My dates are flexible" before starting your search.
Unfortunately, there are no fares eligible to use a companion ticket on these flights from Minneapolis-St. Paul (MSP) to Denver (DEN) on Sept. 8, returning Sept. 14. Just a week ago, Delta would have merely shown a blank screen with grayed out availability. But here's what you get now.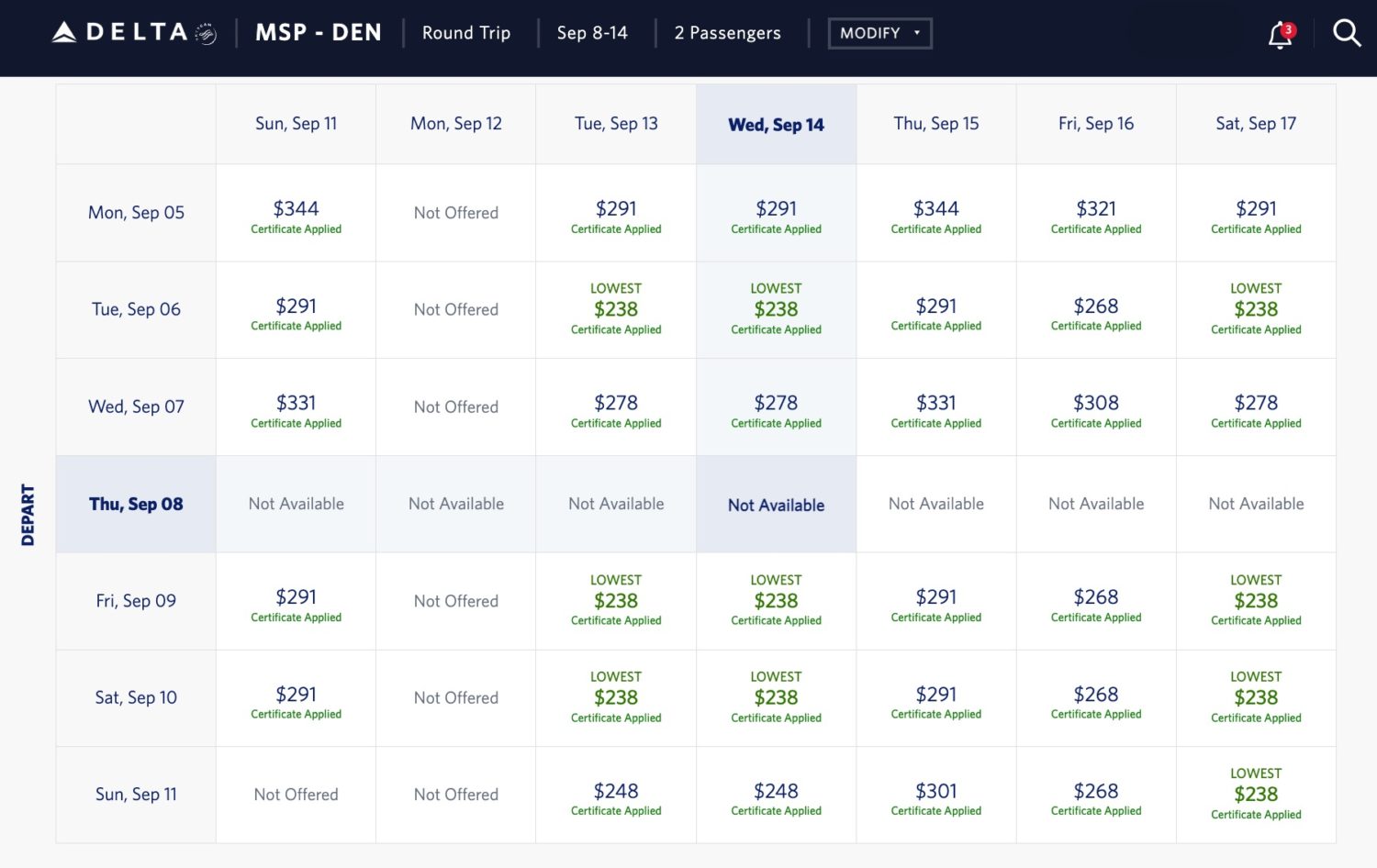 By allowing travelers to pull up a calendar view, Delta now shows you that leaving just one day earlier or later makes these certificates available to use on these flights to Denver next month. Better yet, it also highlights the cheapest fares available over that initial one-week span.
You can take things even further by selecting "Price Calendar" after you search, pulling up a full month's worth of flights for whatever trip length you set.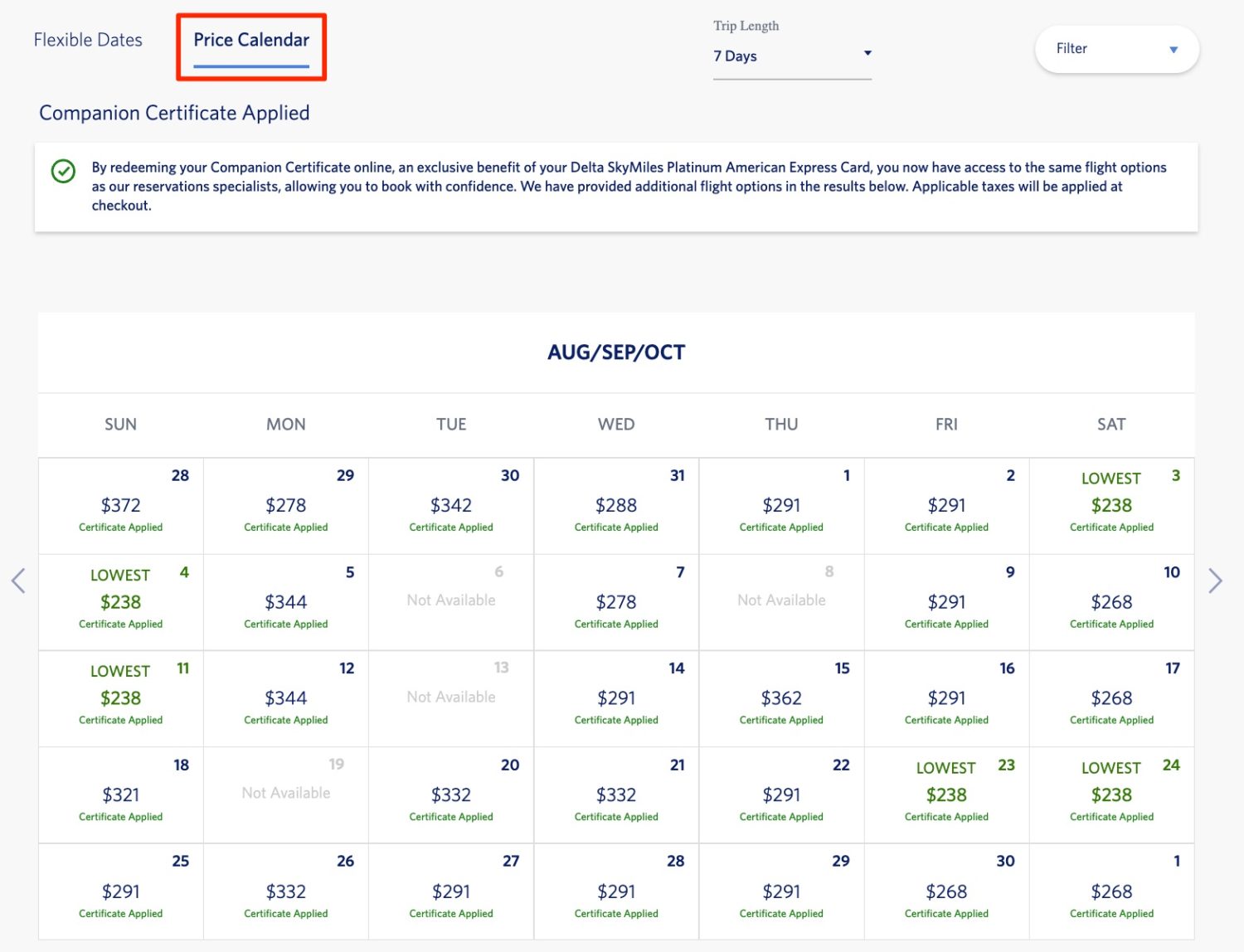 These flexible dates and price calendar functions have been around for years, whether you're looking for a cheap flight using cash or trying to
redeem some Delta SkyMiles
. By looping that in with companion tickets, Delta just made it much easier for flyers to find flights that are eligible to put those certificates to use. 
These certificates can be gold – but only if you know what you're getting.
You won't get your companion ticket right off the bat when you open a new Platinum or Reserve card account. It starts once you've held either the Delta SkyMiles Platinum American Express Card or the Delta SkyMiles Reserve American Express Card for a full year.
Exactly what you can get depends on which card you've got.
These Delta companion tickets are a use-it-or-lose-it benefit
! Pay close attention to the expiration date on your certificate, and be sure to use it beforehand. It's not enough to book before it expires – 
you have to actually take the trip before it lapses.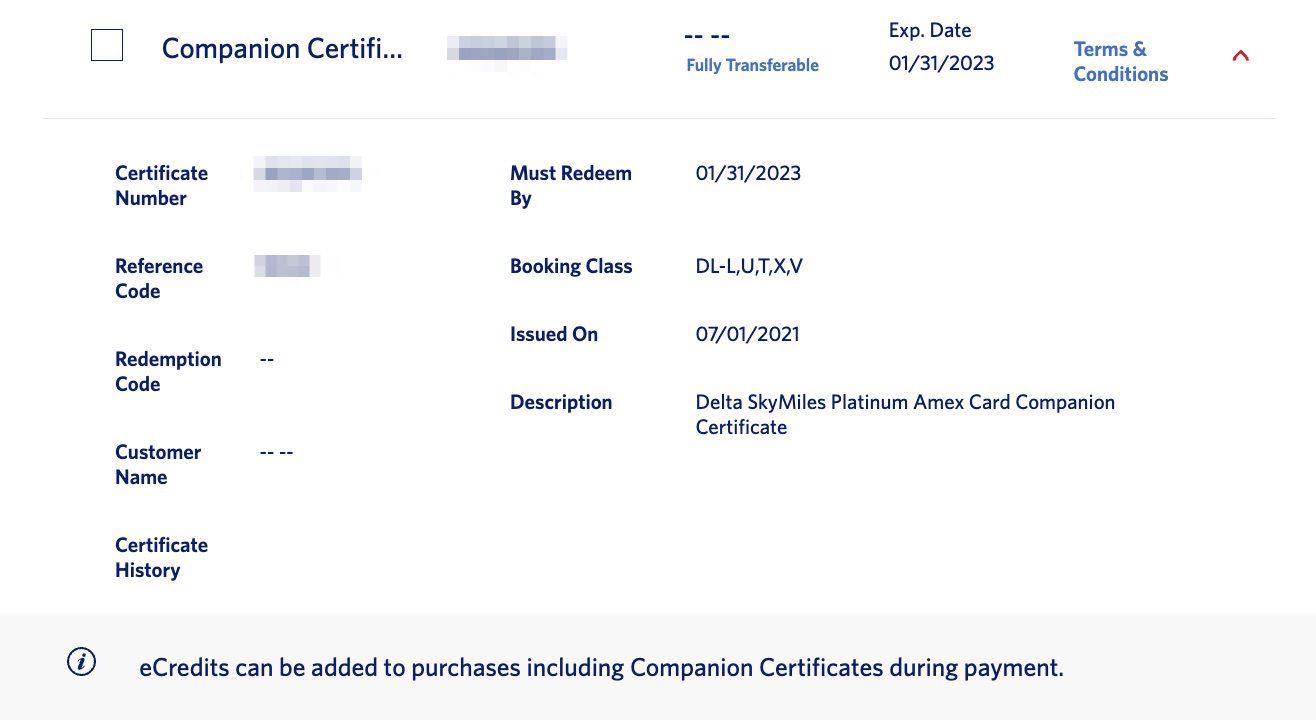 You also have to charge the first fare (and the taxes and fees of the second) to an American Express card. It doesn't necessarily need to be the Delta Platinum or Reserve SkyMiles card. However, using a Visa, MasterCard, or any other credit card will not work.
Simple enough, right? But all this doesn't mean that you can buy any roundtrip ticket and use your Delta companion certificate to bring a buddy for free.
You have to find a specific type of fare class in order to apply a Delta companion certificate. 
That's the reason why many searches when trying to use Delta companion tickets come up empty: Those specific fares just aren't available.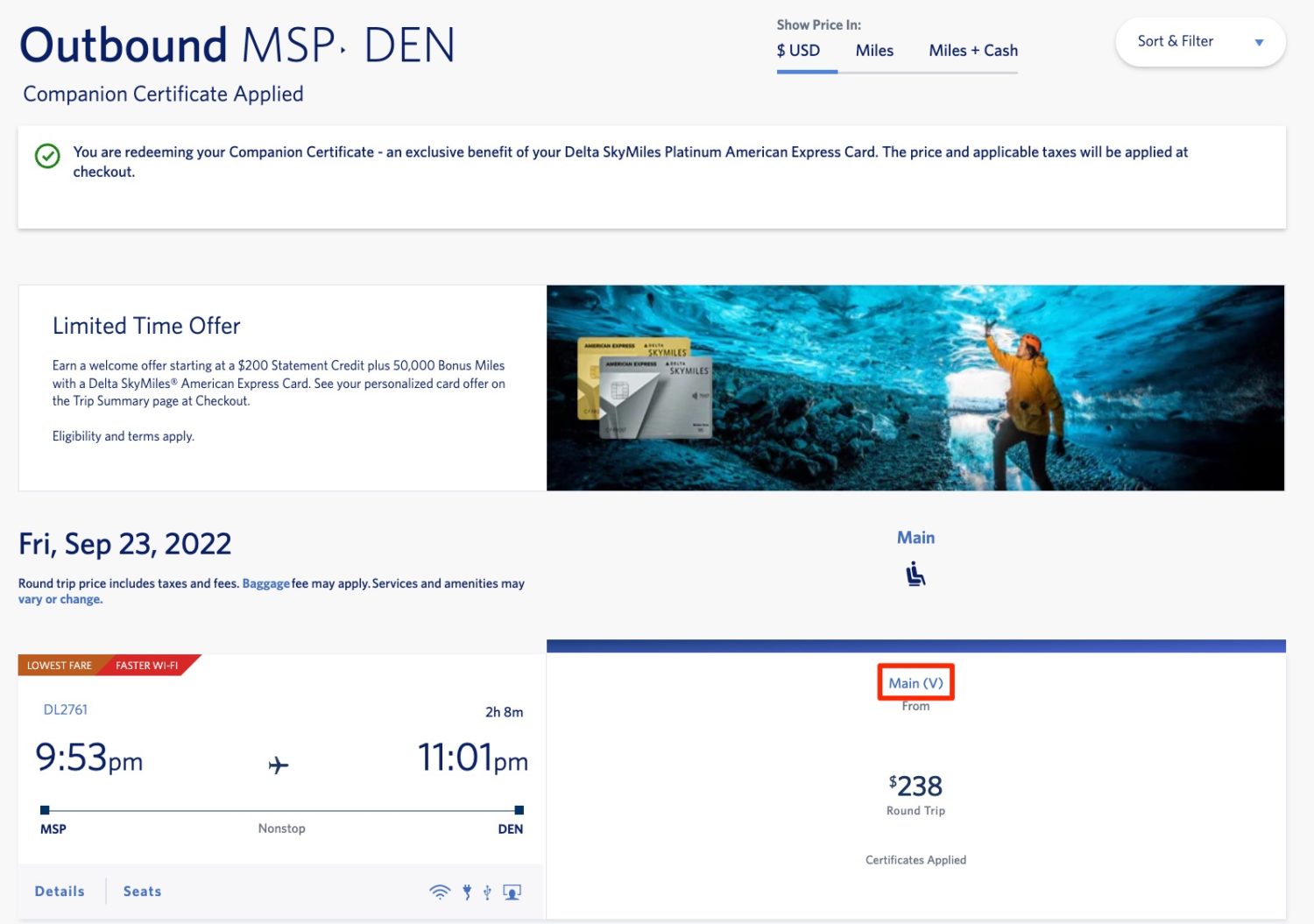 This change is, pardon the repetition, a game changer for using Delta companion certificates. With one simple tweak, it's much easier to find the flights
But there's still plenty more to keep in mind to make sure you're getting the most out of this benefit.
Read our full guide on how to maximize Delta companion certificates in 2022 and beyond!
It's a small change with a big impact.
Delta recently added the ability to search for flexible dates when using a companion certificate, making it much, much easier to find flights to book a BOGO trip rather than letting certificates go to waste. 
Get our daily email for the latest in travel, flight deals, and how to save on your next trip.
Editorial Disclaimer: Opinions expressed here are the author's alone, not those of any bank, credit card issuer, airlines or hotel chain, and have not been reviewed, approved or otherwise endorsed by any of these entities.Disclaimer: The responses below are not provided or commissioned by the bank advertiser. Responses have not been reviewed, approved or otherwise endorsed by the bank advertiser. It is not the bank advertiser's responsibility to ensure all posts and/or questions are answered.
This is a great improvement! Another significant one would be the ability to book more than two tickets, as right now the system only allows for two (paid fare plus companion), requiring to do separate reservations for a family – it would be nice able to pay for three and get four, for example. It seems minor as the reservations can be combined later, but it's a major headache having to do multiple reservations and then combining them.
Thanks for this article. I am interested this benefit. What steps should I take in order to upgrade from the Gold Platinum American Express Card? Do you happen to know if this is possible?
This is great!
Great tips, thanks!
Do you have only "round trip" as a choice to use this companion ticket? I wanted to book multicity ticket from Boston to Washington state and then drive to San Jose Califonia and fly back to Boston from San Jose. It only gives me round trip ticket choice. Any workaround to that?
Received different results than you did. After following the instructions line by line, I received this message "Oh no! We're sorry, but we are unable to process this request online. For assistance please click the "Message Us" button on the Need Help opens in a new tab page and a reservations representative will support you.n#100800_SMR". Different kind of message and not a matrix of dates and money
Just don't expect your luggage to go to the same destination.
Hi is it possible to send my companion certificate to my dad out of state in Minnesota to come fly out to California to visit me? Or do I need to be with them?
You don't need to be with him but he would need a companion in order for you to be able to redeem a companion certificate for his flight.
Your email address will not be published.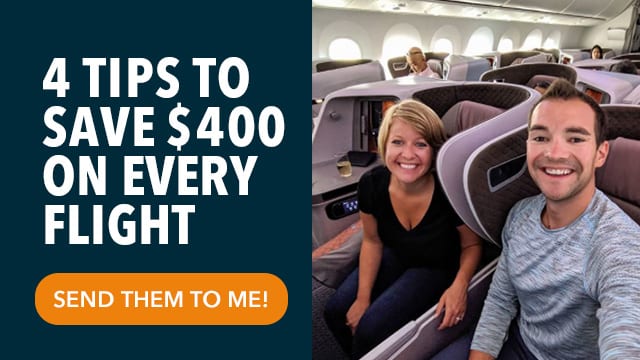 Get cheap travel tips to your inbox!
Get our daily email for the latest in travel, flight deals, and how to save on your next trip.
© 2022 Thrifty Traveler. All rights reserved.