Start exploring magnificent places with our weekly travel newsletter.
Gone are the days of jaw-droppingly low prices on plane tickets. In fact, according to the Bureau of Labor Statistics, airfare has jumped 27.7% in the past year. Although you may not find pandemic flight deals, there are still ways to get a good deal on your tickets.
Here are a few methods you can use to score cheap flights — no matter where you're traveling to.
This is one of the easiest methods to find deals when shopping for flights. Why? Because you won't be doing the searching yourself. There are a handful of websites out there that scan flight prices each day and send any notable results directly to you.
This includes sites such as Scott's Cheap Flights and Thrifty Traveler, both of which notify you when they find discounted ticket prices. Even better, signing up for flight alerts is free — although you'll likely need to pay to receive business or premium economy class deals.
You can also follow other flight alert sites, such as Secret Flying, which publishes deals as they pop up.
We probably all have that one special place where we'd love to visit, but the truth is flexibility is key when it comes to saving money on flights.
According to Scott's Cheap Flights, the top advice when it comes to finding a discounted ticket is to be open-minded about the destination. Rather than selecting flights based on the vacation you already have in mind, instead search for cheap destinations on dates that work for you.
Depending on your willingness to be flexible to save money on travel, there are a variety of tools you can use to search for cheap flights. Google Flights is a popular option. The "explore" function allows you to choose your starting location, length of travel and how soon you would like to depart. Then, you'll be presented with an interactive map displaying prices for various destinations.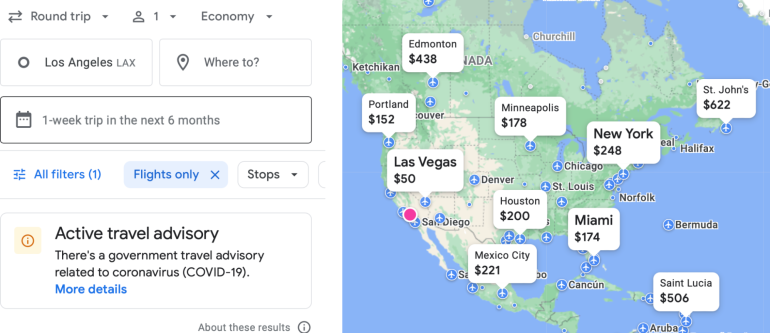 Once you've picked your travel dates on Google Flights, you can filter the search based on stops, airline, class and price.
Skyscanner also features a robust search function for finding cheap flights. You'll simply enter a departure destination and select "Everywhere" for where you'd like to travel.



With Skyscanner, you can also choose whether to search for specific flight dates or find prices across an entire month.
A quick search for a flight leaving from San Francisco in October reveals a host of destinations, including a flight to Europe from $374 round trip.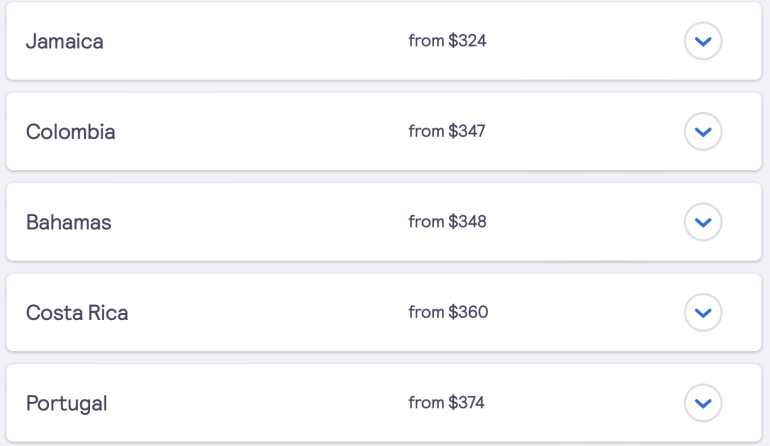 Although it can be a little more complicated to use airline miles for travel, it's worth the effort. Redeeming miles for flights can drop your out-of-pocket costs down to nearly zero, even when the cash costs for a ticket are high.
Here's an example of an economy class ticket from Chicago-O'Hare to Kona, Hawaii, leaving in early March 2023.



This same ticket can be bought with United miles. Though to spend fewer miles, you'll often want to redeem your credit card points with non-U.S. airlines for the same flight. As a member of Star Alliance, Turkish Airlines is allowed to book these United Airlines flights — and the cost to do so is 15,000 miles round trip. The Star Alliance is one of several airline alliances; these partnerships allow airlines to share routes, resources and other reciprocal benefits.
And even though it's a foreign airline, it's not difficult to earn Turkish Airlines miles since it's a transfer partner of both Capital One and Citi.
Capital One Miles and Citi ThankYou Points, both transferable points currencies, transfer to Turkish airlines at a 1:1 ratio, meaning that one credit card point converts directly into one airline mile. Then, you can use the miles to book reward flights.
Every location has its own peak season when you can expect to find more tourists, expensive flights and costly accommodations. However, you'll do better to head to offseason locations.
Take, for example, a flight from New York-John F. Kennedy to London-Heathrow. Choosing to fly at the end of August means you'll pay a little under $1,000 for a nonstop flight:



Switching your dates to a lower travel period, such as ones you'd find at the end of February, nearly halves the cost of your travel.



This is true no matter where you're going, so if you have a fixed destination in mind, consider traveling during the offseason to save money on flights.
In fact, a NerdWallet analysis — conducted in December 2021 of more than 100 airfares on popular U.S. travel routes across eight major airlines — found that airfares averaged 23% cheaper when booked outside of peak season travel.
Although we can't expect rock-bottom pricing for plane tickets anymore, that doesn't mean you should be paying huge sums of cash for flights. Instead, take advantage of these tips to find a flight deal.

Space-saving sandals go in the bag, clunky gym shoes on your feet. Also wear thicker clothing like jackets, sweaters, hoodies or jeans on the flight. While packing, opt for fast-drying clothing from outdoor stores like REI that can be squished into your carry-on.
My friend swears by rolling her clothes, army-style, like little Twinkies. You can also buy TSA-friendly compression packing cubes that can help you squeeze more clothing into your bag, or at least help you stay organized.
Another friend says she interrogates each piece of clothing. Can it be worn multiple times, multiple ways? Items that can't be "team players" stay at home.
Potter, who admits he's a "pretty plain dresser" by nature, chooses versatile clothing — basic T-shirts and quasi-athletic wear that work well on a hike just as much as at the pub. "People have this impulse to bring as much as they can," he said. He encouraged me to think back to the last time I checked my bag "and do a mental inventory of everything you packed that you never wore." Eek.
I have childhood memories of my mom packing her suitcase with containers of Pond's cold cream to give as gifts for relatives on overseas trips. Sorry, Auntie — this time you're getting cash.
When Gatachew Teklu, owner of Admas Travel, flies back to Ethiopia to see family, "I just give them money instead of buying them all this stuff from T.J. Maxx and Marshalls," he said.
Don't waste the space under the seat in front of you on a tiny purse. A midsize bag or backpack with multiple compartments can store electronics and headphones, a fresh set of clothes, and airport essentials. Just measure the dimensions and check the airline's restrictions to make sure you can stow it under the seat.
No matter how long your trip is, pack only a week's worth of clothes. When selecting your accommodations, consider an Airbnb that has an on-site washer and dryer or a hotel that offers a wash-and-fold service, Potter advises.
When Allie Hawley March of Oakdale travels, each child gets her own backpack. E-books are a must. If your kid is old enough to use a booster seat for the car, consider inflatables like the BubbleBum to save on space. On her last family trip, Hawley March said, "The booster seat literally fit in my carry-on, along with all my clothes, and was in my bag under the seat in front of me. No overhead bin or checked bag. It was amazing."
How's that for winning the bonus round?
"I don't want to try to wrangle kids AND a rolling suitcase," said Hawley March, who hasn't checked a bag in 20 years. "I want both hands free so I can hold onto small people — hence a backpack. And then if the kids all have backpacks, they can be responsible for their own gear."
If you must check a bag …
Make sure to store essentials in your carry-on: medications, toiletries (travel size, bien sûr!), clothing and shoes, valuables, contact lenses and any attire you plan to wear to special occasions such as weddings.
Apple AirTags or similar wireless tracking devices "are pretty close to an absolute must right now," said Potter. It won't prevent your bag from getting lost, but it may help you get it back faster since you'll be able to pinpoint its location. I found them on Amazon selling for $27.50 apiece, or $89 for a set of four.
Buy your plane ticket with a credit card that includes baggage protection, which can reimburse you for the costs of a change of clothes and toiletries during your trip if your luggage has been significantly delayed or lost. While airlines may be on the hook for some of these costs, sorting it out can take time, Potter said. Make sure to get documentation from the airline about your lost luggage, and save the receipts from your purchases.
Another option is purchasing standalone travel insurance. But be sure to read the fine print and make sure your policy includes baggage coverage.
Converted yet? Potter said most travelers have their routines and don't want to be told there could be a different way. But he has faith that in this unpredictable and potentially stressful travel season, some of us might open our minds — and our carry-ons — to the beauty of packing light.
"The only thing worse than going somewhere for two weeks and not having all the clothes you want," he said, "is going some somewhere for two weeks and not having any clothes, period."
More From NerdWallet
Carissa Rawson writes for NerdWallet. Email: articles@nerdwallet.com.
The article Flight Deals Still Exist: 4 Ways to Find Them originally appeared on NerdWallet.
Start exploring magnificent places with our weekly travel newsletter.
Travel experts say they expect the fall travel season to bring some relief — in prices most definitely but possibly in flight disruptions. Here's how to cope until then.
Weeks after Airbnb said it would permanently ban parties at properties rented through its platform, the company is deploying so-called "anti-party technology" to help enforce the measure.
Everyone wanted to be in Doc's dory boat, but there were only four spots.
Producing wine is traditionally associated with certain regions, but up-and-coming wineries are making their mark in surprising areas across the country.
Here's a look at where to visit in Italy, Spain, France and Croatia — among other European countries popular with American travelers — if you're looking to go where everyone isn't.
Despite what some travelers might think, booking a hotel in advance usually isn't a good idea. The savings aren't huge, but booking at the last minute knocks about 13% off…
Short-term vacation rentals such as Airbnb and Vrbo offer much that hotels can't, such as authenticity and uniqueness. Yet these benefits come with some major downsides. Unpredictability and hit-or-miss property…
Flying is an absolute nightmare right now. As "revenge travel" causes a surge in passengers post-Covid restrictions, understaffed airports and airlines across the country are struggling to keep up. The surge in demand, with inadequate resources to support it, has resulted in thousands of flights delayed or canceled this summer. By July, more flights had […]
It seems like all my friends got COVID this summer, and many think they got it on a plane. But that's as anecdotal as data gets. What does, you know,…
Get up-to-the-minute news sent straight to your device.