Runway Girl Network uses cookies. By using our site you consent to the use of cookies in accordance with our Privacy Policy.


As international air travel returns, many airlines and airports are happily celebrating new services and new routes and, in some cases, showing off new aircraft and new aircraft interiors.
At Seattle-Tacoma International Airport (SEA), the newest international airline to join the line-up is Finnish flag carrier Finnair, which began flying between SEA and Helsinki Airport (HEL) on 2 June. We were on hand for the pre-flight gate celebrations and the inaugural flight.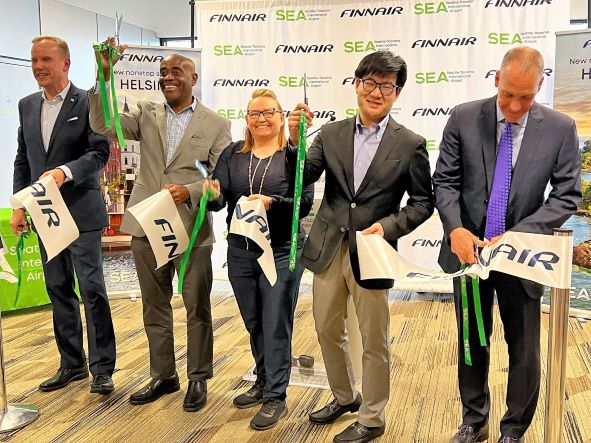 For the 9.5-hour SEA-HEL route, Finnair is using an Airbus A330 and flying between the two cities three times per week on Monday, Wednesday, and Friday. The flight leaves from Seattle's South Terminal, where Finnair passengers flying business class have access to the lounge of oneworld alliance partner British Airways. 
Passengers on the inaugural flight were welcomed with a ribbon-cutting ceremony and short speeches by airport and airline dignitaries at the gate. On boarding, everyone received shortbread cookies and bag tags marking the inaugural flight. And SEA airport sent the Finnair plane off with a water cannon salute and two congratulatory cakes for the crew, which they were kind enough to share with passengers during the flight.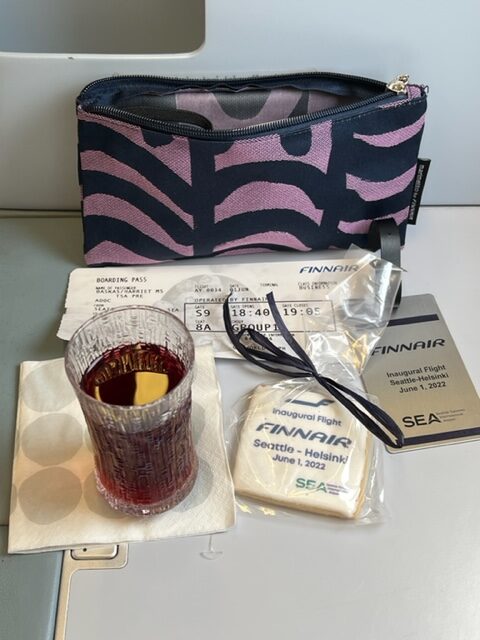 Finnair has a major cabin renewal program underway for its A350s and A330s, the highlight of which is a new nest-like, no recline business class seat. While planes with refurbished cabins are currently available on Finnair's flights out of Chicago, passengers from SEA-HEL will need to wait until fall 2022 for the upgraded experience.
The A330 currently serving the SEA-HEL route, however, is no slouch. And crewmembers — some of whom were returning to service on the inaugural flight after almost a two-year pause — are efficient, attentive, and truly kind.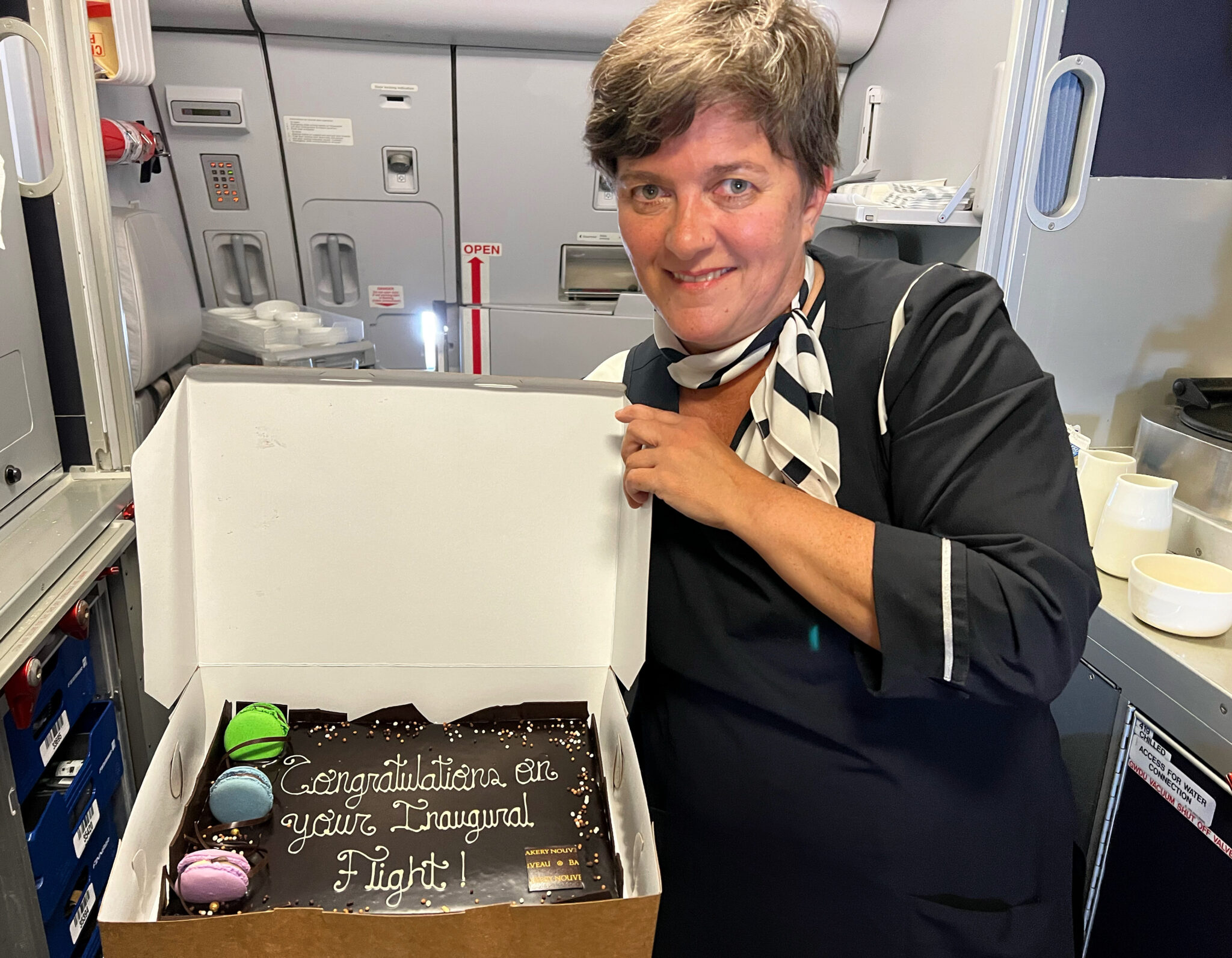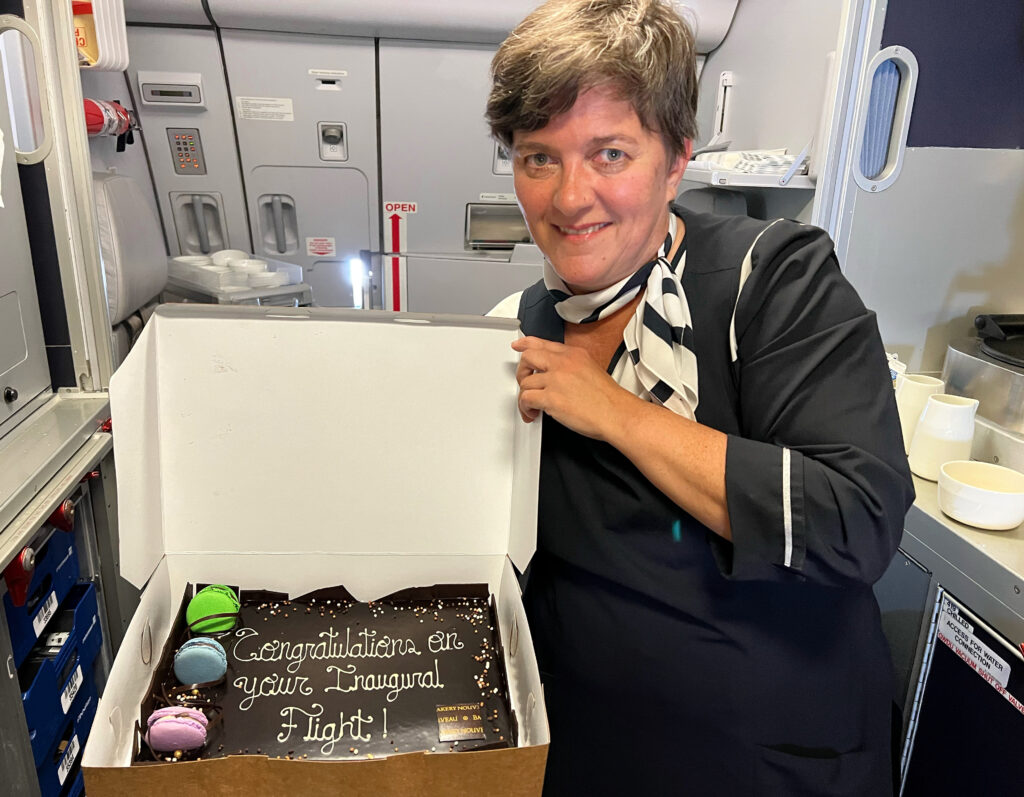 This A330 has flat-bed seating, configured 1-2-1, in business class plus 2-4-2 seating in extra legroom Economy Comfort and economy seating in the main cabin. There are several 2-3-2 rows of seating toward the rear of the plane.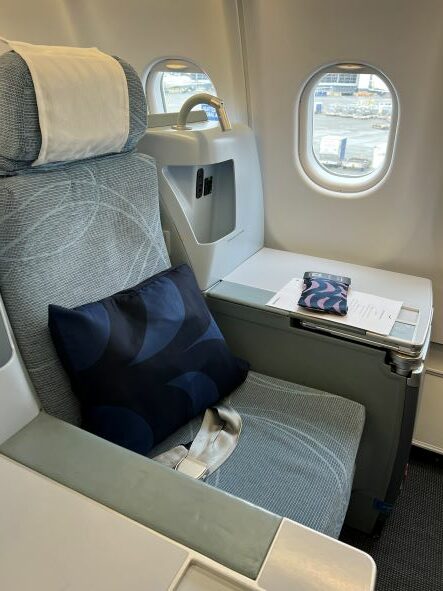 Finnair does not require passengers or crew to wear masks, but some passengers were still wearing masks during the flight. In-seat IFE screens are offered nose-to-tail.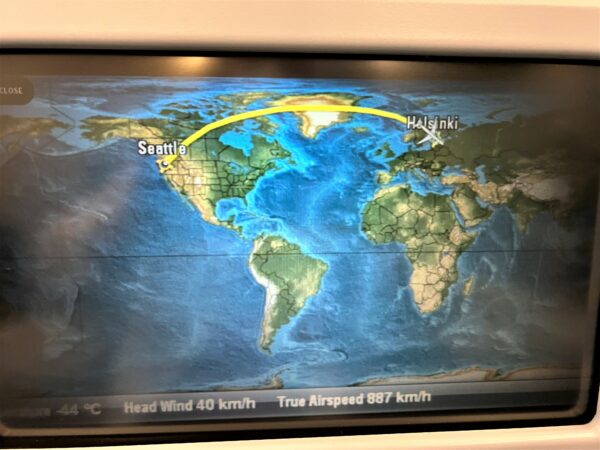 In addition to a nice set of headphones, and a welcome drink of champagne or blueberry juice (a signature Finnair drink since 2014), business class passengers receive an amenity kit designed by Finnish design company Marimekko for Finnair.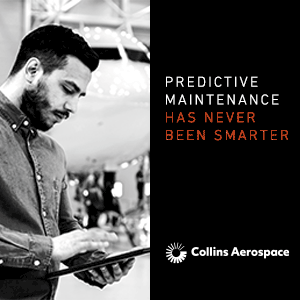 The amenity kit is sustainable and includes lip balm and chamomile/lavender facial cream, a Marimekko designed sleep mask, earplugs, and a toothbrush. 
There are two meals served on the SEA-HEL flight and passengers flying business class may pre-select their options to ensure availability and help minimize food waste. 
Our meals in business class included meat, fish, or vegetarian options and all received excellent reviews from the passengers we surveyed.
The economy passengers we chatted with gave complimentary reviews about their meals as well. A bonus dessert on this flight was generous slices of the celebratory chocolate cakes that SEA airport had presented to the crew. 
While we did not spot a "WELCOME TO HEL" sign for arriving passengers, we did see a helpful, bright blue and orange "Welcome to Helsinki Airport" information screen as we deplaned with the local time in large numbers along with the gate numbers for flights with short connections.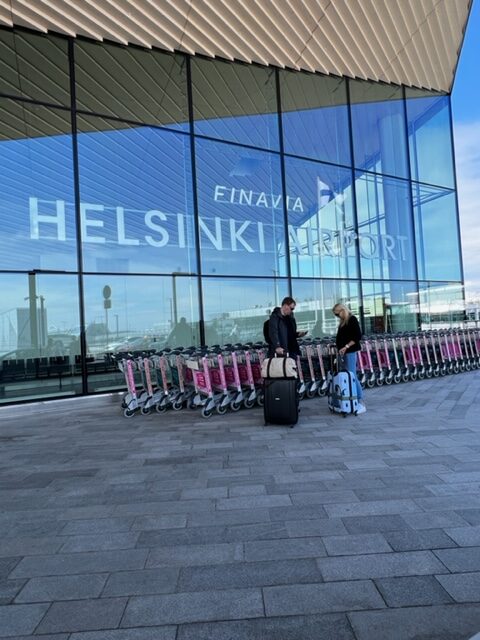 The customs and immigrations process was easy and efficient at Helsinki Airport and on our way out of the facility we spotted shops for several upscale Finnish brands. 
We visited those shops on our way home, but also took time to explore Helsinki Airport, the largest of twenty carbon neutral airports operated by Finavia. 
Helsinki Airport officially opened its new terminal in December and some of the 'don't miss' features include an impressive undulating wooden roof made of Finnish spruce, an oasis in the arrivals hall with moss-covered stones and lots of live plants, and a public lounge area inside the terminal with a curved 360° LED screen, soundscape and interactive wall projections offering travelers a last-minute trip through Finland's four seasons.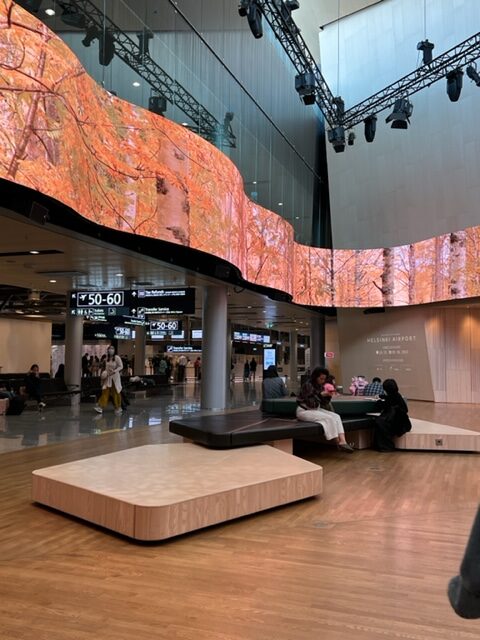 We also spotted an exercise room and a Scandinavian Christmas Cabin with a faux sauna, books, hidden elves, and charmingly, a book where kids of all ages may write down the good deeds they want Santa to be aware of.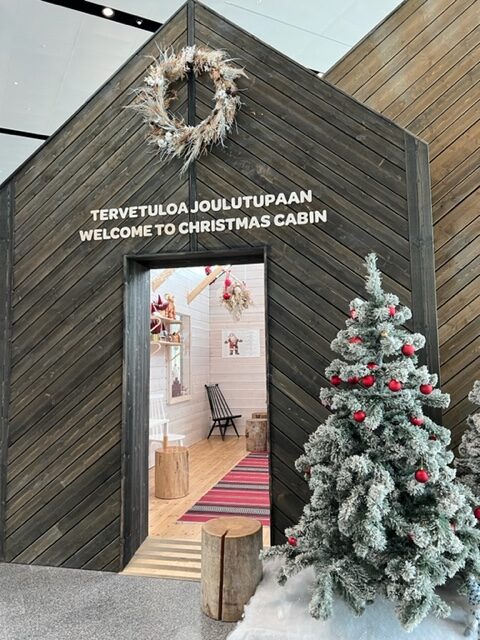 Related Articles:
Featured image credited to Port of Seattle; all other embedded images credited to the author, Harriet Baskas
Contributing Editor Harriet Baskas writes about airports, travel, museums and a wide variety of other topics for outlets that include NBCNews.com, CNBC.com, USATODAY.com and others. She is also the creator of the StuckatTheAirport.com blog. She has been the general manager of three public radio stations, is the author of seven books, including Hidden Treasures: What… Read More