Senate Democratic Leader Lauren Book wants clarity about "possibly illegal actions" Gov. Ron DeSantis' administration took this week, when it flew nearly 50 undocumented Colombian and Venezuelan migrants to Martha's Vineyard.
On Friday, Book sent a letter to Florida Department of Transportation (FDOT) Secretary Jared Perdue demanding several details about a $12 million program DeSantis received an earmark for in the 2022 state budget.
According to Geoffrey Freeman, director of the Martha's Vineyard airport that received the two Florida-funded flights Wednesday, the flights originated in Texas. If that is accurate, the DeSantis administration may have violated its own rules.
"On page 494, section 185 of (the 2022 state budget) it is a requisite condition for the use of appropriate funds that your agency … must first develop and 'implement a program to facilitate the transportation of unauthorized aliens from this State consistent with Federal law,'" Book wrote.
Book then requested the following information:
— The date of establishment and language dictating operation of the program.
— The authority or legal opinion used to allow state funds to be spent on transporting people from Texas.
— Clarity on whether a person referred to as "Ms. Perla," who reportedly told the migrants they would be granted expedited work permits if they agreed to be relocated, is an FDOT employee.
— Whether FDOT provided a videographer for the flights.
"Given the attention surrounding this matter, I fully expect that you have this information available, and will provide it to me by the end of the day," she wrote.
In a statement, Book blasted DeSantis for using migrants as "political pawns," adding that the "widely reported details of this fly-by-night partisan stunt appear to violate Florida law."
"I intend to get to the bottom of exactly what happened, why, and how," she said. "Basic human decency is not a partisan issue, and the actions of the Governor have rightly alarmed Democrats."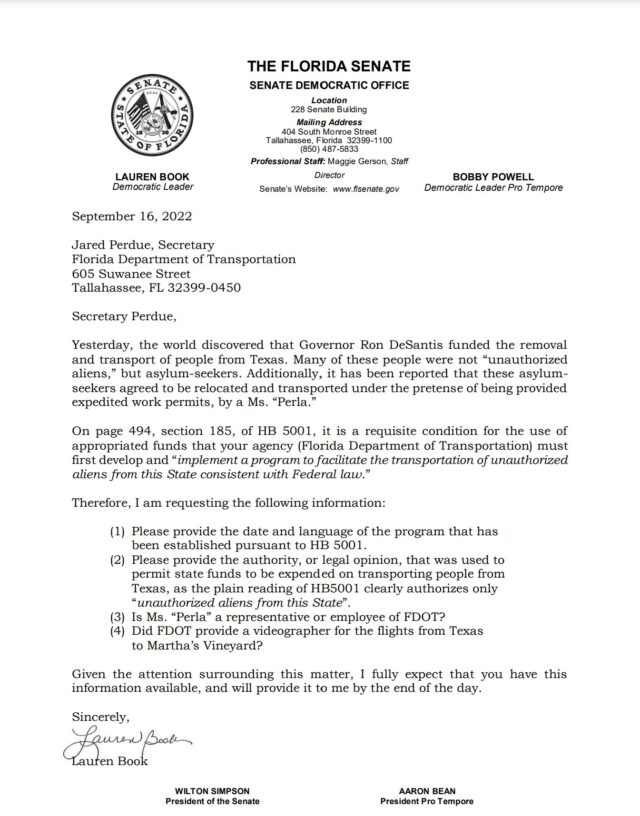 Of note, Book joined 32 other Senators in approving the state budget, including the $12 million earmark for the migrant-relocation program, which passed without a single "no" vote in the Senate.
The budget received just three opposing votes in the House from Republican Anthony Sabatini and Democrats Michael Grieco and Dotie Joseph.
Wednesday's flights follow similar action in Texas, where, in April, Gov. Greg Abbott sent thousands of undocumented migrants to Washington, New York City and Chicago. Arizona has also bused migrants to Washington as part of an up to $15 million relocation initiative.
On Thursday, Abbott sent two busloads of migrants to be dropped off near Vice President Kamala Harris' home in Washington.
Their actions drew broad condemnation from Democrats across Florida, including Miami Sen. Annette Taddeo, Agriculture Commissioner Nikki Fried and Democratic gubernatorial nominee Charlie Crist, who filed a public information request for all communications regarding the relocation effort.
Fried and California Gov. Gavin Newsom wrote formal letters asking U.S. Attorney General Merrick Garland to investigate the matter.
DeSantis has been consistent in his opposition to illegal immigration. While in Congress, he backed several bills meant to prevent such action, including the Zero Tolerance for Illegal Entry Act of 2018. When he ran for Governor that year, he vowed to restrict illegal entry to the U.S. and ran a campaign ad in which he told his young daughter, who was playing with toy blocks, to "build the wall."
Speaking before a packed ballroom Sunday during the National Conservatism Convention in Aventura, DeSantis denounced "mass immigration" to a round of applause.
"This idea of mass immigration — whether it's illegal immigration, whether it's just mass immigration through the legal process, like the diversity lottery or chain migration — that is not conducive to assimilating people into American society," he said. "We're not globalists who believe that foreigners have a right to come to our country whenever they want."
Two days later, DeSantis' former Press Secretary Christina Pushaw, now a spokesperson for his re-election campaign, told convention attendees states and cities with friendlier policies toward undocumented immigrants are getting what they asked for.
"They've signed up for that, right?" she said. "I'm not sure why anyone would have a problem with this policy if it's common sense. The left should be happy that we're getting more illegal aliens. Floridians could be happy that we're not, because we're not a sanctuary state."
Jesse Scheckner has covered South Florida with a focus on Miami-Dade County since 2012. His work has been recognized by the Hearst Foundation, Society of Professional Journalists, Florida Society of News Editors, Florida MMA Awards and Miami New Times. Email him at [email protected] and follow him on Twitter @JesseScheckner.
September 16, 2022 at 5:57 pm
Shut the hell up, you voted on it.
$12 million line item.
Get over it.
My goodness, Dum Dems United.

September 16, 2022 at 7:46 pm
They wouldn't have if they had known that people would be USED in some dystopian political stunt by mini Trump troll. This action was beneath one who holds elected office, unprofessional, meant to entertain idiots like you. The GOP has figured out that their voters are comprised of two categories 1) The rich 2) The stupid people that they grift off of in a myriad of ways. This stunt was for stupid people…

September 16, 2022 at 6:47 pm
Lauren should ask Biden why he is not protecting the border.

September 16, 2022 at 7:46 pm
You are exactly right. The BLUE BLOWHARDS were fine with millions coming to and through Texas. However when they are shipped to Sanctuary Cities the BLUE BLOWHARDS cry foul.

September 16, 2022 at 7:49 pm
DeSantis and Trump are the biggest blowhards in human history. You lack insight.

September 16, 2022 at 7:55 pm
I have complete insight. You are blind. It is total chaos at the Southern Border. Kamala Harris is incompetent and should be impeached for dereliction of duty there. Joe "Brain dead" Biden hasn't even visited the Southern Border. He should be impeached as well.

September 16, 2022 at 8:20 pm
Far right propaganda…
September 16, 2022 at 7:20 pm
They handcuffed us to the seats in the plane. We didn't know where we were going. Some of us had not eaten in days. Some of us were not allowed to use the restroom on the plane so we urinated in our pants. When we arrived, they were screaming and cursing at us to get off the plane. We walked six miles to the vineyard. One lady was pregnant and lost the baby due to stress. Most of us have crippling PTSD now thanks to DeSatan.

September 16, 2022 at 7:47 pm
You are completely full of shit.

September 16, 2022 at 7:51 pm
Trump 40,000 lies over four years.. culminating in the big lie. Did you support Trump crime spree? If so, you cannot accuse another human being of being full of sht for as long as you live.

September 16, 2022 at 7:58 pm
This is not about Trump. This is about the most incompetent administration since the Jimmy Carter era. Do you remember that Julio? Then again you weren't here yet. Ha! Ha! Corsin, Offen, Crist, and the rest of the aliases.

September 16, 2022 at 8:25 pm
Trump administration was the most criminal and corrupt regime in American history. The most he did was sit on his nuts and insult people for four years and claim victory for Obama's economy. And here you are trying to scapegoat Biden. You're a sad, silly fker. And shame on you for having no sympathy for me.. victim of DeSantis human rights violations.
September 16, 2022 at 9:24 pm
@Fire: Yeah Trump lied every day for four years and continues to lie every time he opens his mouth…yet we don't see you people jumping on A SINGLE ONE of those lies do we? YOU people completely full of sht 😆

September 16, 2022 at 11:10 pm
Far left propaganda…

September 17, 2022 at 6:47 am
They told us that we would be killed if we didn't get on the plane, and that if we came back to Florida we would be imprisoned for life or killed. Propaganda mi culo puta.

September 16, 2022 at 10:24 pm
I noticed that no one replied specifically to the question, but as usual wanted to change the subject and retreat into whataboutism.

September 17, 2022 at 5:52 am
The future President of the Florida Senate demands answers and she'll get them either now or in November.

September 17, 2022 at 7:33 am
What's next, is Florida going to pay for California wildfires? After all they may spread to Florida. Wake up Floridians, this Governor is mentally I'll and needs help!

September 17, 2022 at 7:55 am
Morton the idiot, LMAO.
Not happening.
It was voted for and supported by most Dems in legislature, it's over. Get over it. Book is embarrassed.

September 17, 2022 at 8:21 am
It was voted on to send us to Martha's Vineyard as a political stunt? Eres un mentiroso tu piche puta!!! Lo voy a matar bastardo!!

September 17, 2022 at 8:53 am
We should put you back on a plane to Venezuela. 🤣

September 17, 2022 at 9:01 am
If you said this to me in public I would shoot you and flee back across the border you racist fking puta…

September 17, 2022 at 9:07 am
Hey Puta? What kind of welcome would this gringo receive in Venezuela? You think I could walk downtown safely? By the way I have been to Caracas before so I know.
September 17, 2022 at 9:26 am
What kind of welcome would a racist Trump supporter receive in Caracas? The kind he deserves…same kind as DeSatan gave us you puta. A beating is better than being used in some far right political theatre.
September 17, 2022 at 9:32 am
Hey Puta, even if I was wearing a Joe Biden shirt, I bet I would still get the same reception. You see Puta, racism goes both ways. Walk the streets of Kingston, Jamaica and tell me how it goes there Puta.
September 17, 2022 at 9:55 am
I'll fucking kill you..you lying asshole!!!
September 17, 2022 at 9:58 am
Kick this unstable person out of the country now. Certainly not fit for citizenship.
September 17, 2022 at 10:30 am
Who Trump?
September 17, 2022 at 8:41 am
I wrote my Congresswoman, Debbie Wasserman-Schultz, and suggested she build a tent city in Weston, where she lives, and welcome thousands of illegals to her town. Of course she didn't bother writing me back. To MS Book, let's send some busses to your neighborhood and see how your neighbors react. Probably a bunch of BLUE BLOWHARDS in her hood as well. Time to share the pain that Biden has brought to all of America.

September 17, 2022 at 9:05 am
Lauren's Kids get million$ from the same 22-23 budget she voted for.
She then "earns" $200K a year as CEO of the nonprofit in addition to her State Senator salary.

September 17, 2022 at 9:09 am
Yeah? What about Rick Scott. Now let's talk about Rick Scott.

September 17, 2022 at 9:09 am
Yes another BLUE BLOWHARD.

September 17, 2022 at 9:56 am
👆RED BLOW JOB!! Fuggin moron..

September 17, 2022 at 10:45 am
Charlie, You are a resident of Pinellas County. Let's set up a tent city in your neighborhood. I'm sure it will be very popular with your neighbors. Yes Charlie, you are yet another BLUE BLOWHARD.

September 17, 2022 at 1:24 pm
Hopefully this latest DeSantis clown act will bury him is court cases for the next four years.

September 17, 2022 at 1:37 pm
You people still wishing Andrew Gillum was Governor. Boy did we dodge a bullet in 2018.

September 17, 2022 at 1:54 pm
Great article, Mike. I respect your work, i'm presently creating over 35000 usd month-to-month merely through doing a truthful activity on-line! i do acknowledge ~AQ580~ You presently developing a wonderful deal of bucks on-line from 28000 bucks, its straightforward on-line operational jobs fully open the link———-rq.fyi/0T4DDB

Your email address will not be published. Required fields are marked *









Florida Politics is a statewide, new media platform covering campaigns, elections, government, policy, and lobbying in Florida. This platform and all of its content are owned by Extensive Enterprises Media.
Publisher: Peter Schorsch @PeterSchorschFL
Contributors & reporters: Phil Ammann, Renzo Downey, Roseanne Dunkelberger, A.G. Gancarski, Anne Geggis, Kelly Hayes, Joe Henderson, Ryan Nicol, Jacob Ogles, Scott Powers, Gray Rohrer, Aimee Sachs, Jesse Scheckner, Christine Sexton, Andrew Wilson, Wes Wolfe, and Mike Wright.
Email: [email protected]
Twitter: @PeterSchorschFL
Phone: (727) 642-3162
Address: 204 37th Avenue North #182
St. Petersburg, Florida 33704

© Copyright by Extensive-Enterprises 2022. All rights reserved. STAFF LOGIN